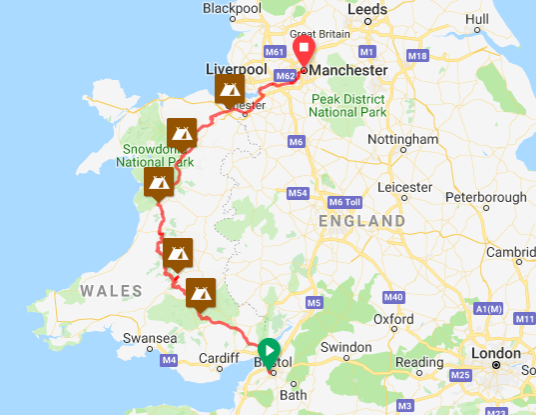 There's been an itch all year. As I've watched those I admire tackling challenges both in lands near and far – the desire to give bikepacking a go – a proper go – has grown. A step up from last year's Land's End to Bristol Off Road, I wanted to become more self sufficient and carry sleeping kit too.
Putting A Plan On Paper
I kinda wish it was paper maps and scrawled out route cards but alas we're all online now. Without a doubt the hardest part of the entire trip was not the torturous climbs of North Wales or finding the perfect bivvy spot – but in fact concreting the plan in the first place.
The first draft of plans to ride from John O'Groats to Inverness in time to join The Racing Collective's XDURO Scotland Route (Stu Allan's Badger Divide to Glasgow) were scrapped after I failed to secure a riding partner. Turns out the wilds of Scotland is no place to be on your own if you're as inexperienced as I am.
In a continuation of 2017's route and with a plot twist from The Racing Collective, Bristol to Manchester was born – with an altogether indirect and exciting route choice. Recceing the plot for a race in the making whilst touring some of the best off road trails, leaving right from my front door, and now with a ride buddy in tow – what was not to like?!
Wiggly is best
When it comes to plotting off road routes, wiggly is often best. Wiggly means not cutting straight past that unmissable road, not sacrificing amazing trails for average ones, and our route was one big wiggle through Wales.
When it came to splitting up the route into chunks for the days as a loose plan, I've found that 100km is a comfortable goal to aim for off road at a casual pace – which does seem very casual indeed when you're used to cracking out big miles on the road. But mileage is not the only thing to take into consideration – but locality of overnight stays. High on our agenda was a pub stop in the evening for dinner, and a shop to restock snacks for the following day. Hence, not every 100km finishes in an accessible place, and so some days were relegated to a very casual 60km.
It makes sense to talk through each day or stage in greater detail, so here we go.
Day 1 Bristol – Brecon Beacons, 116km/1920m
What's more satisfying than starting your holiday right from your front door? Even if it is lashing it down with rain, and you look like a *total* dork with your cling filmed helmet!? It would be easy to delay a day and start in the dry – but what would you learn from that? Thankfully both my riding partner Sam and I both have a naturally sunny disposition, and were in no position to let a little (lot) of precipitation stand in the way of our fun.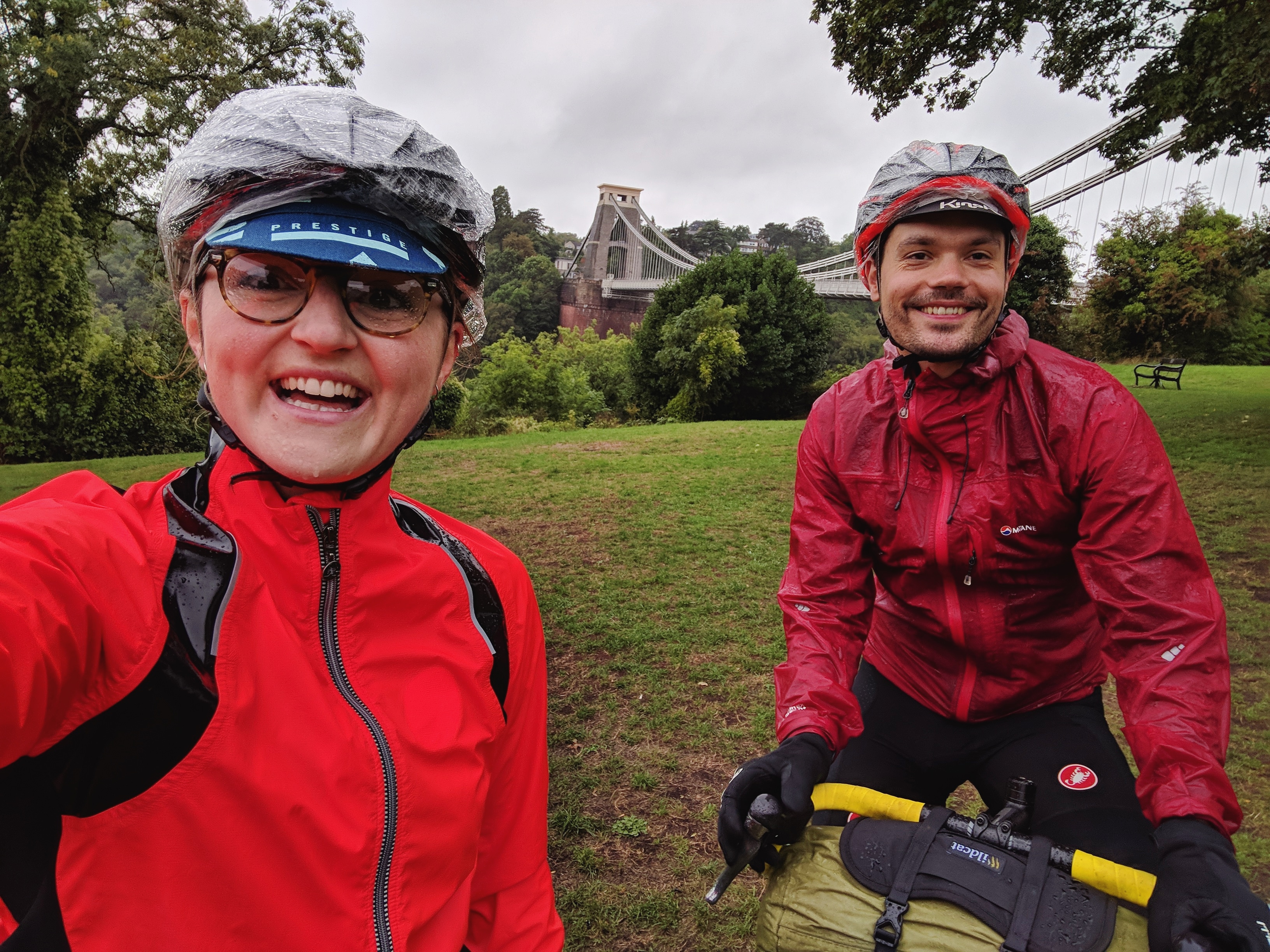 From Bristol's iconic Clifton Suspension Bridge we were off, across the downs and onto hidden trails out through the city via the beautiful Blaise Castle Estate. I certainly hadn't expected the journey to the Severn Bridge to be as 'mixed media' as we found – with loads of new bridleways and linking paths that I had no idea about. So good to follow someone else's route and learn some new trails.
One very blustery crossing and straight out of Chepstow onto very hilly back lanes as it started to absolutely bucket it down – welcome to Wales!
After 40k and not far from our eagerly anticipated lunch stop in Usk, we turned off the lanes for some more off road, starting with our first water crossing- Cas Troggy Brook. No sooner had we both been shin deep, did we discover a narrow footbridge just metres upstream, hidden amongst the vegetation. We laughed – we couldn't have been much wetter anyway.
The bridleway kicked up a steep bank with a series of sharply rising, large steps, each with a wooden sleeper holding back trickling waterfalls that we hauled our laden bikes up. After about a dozen steps, they gave way to some narrow singletrack,, eventually giving way to the more gentle gradient of our first gravel roads through the Woodland Trust's Wentwood Forest. A hidden gem indeed, we were immersed in this eerie forest with the rain easing but mist creeping in all around us. As Sam gained the advantage on the climb (setting precedent for the week ahead) he disappeared entirely into the white cloud, rear flashing light barely visible less than 100 metres ahead.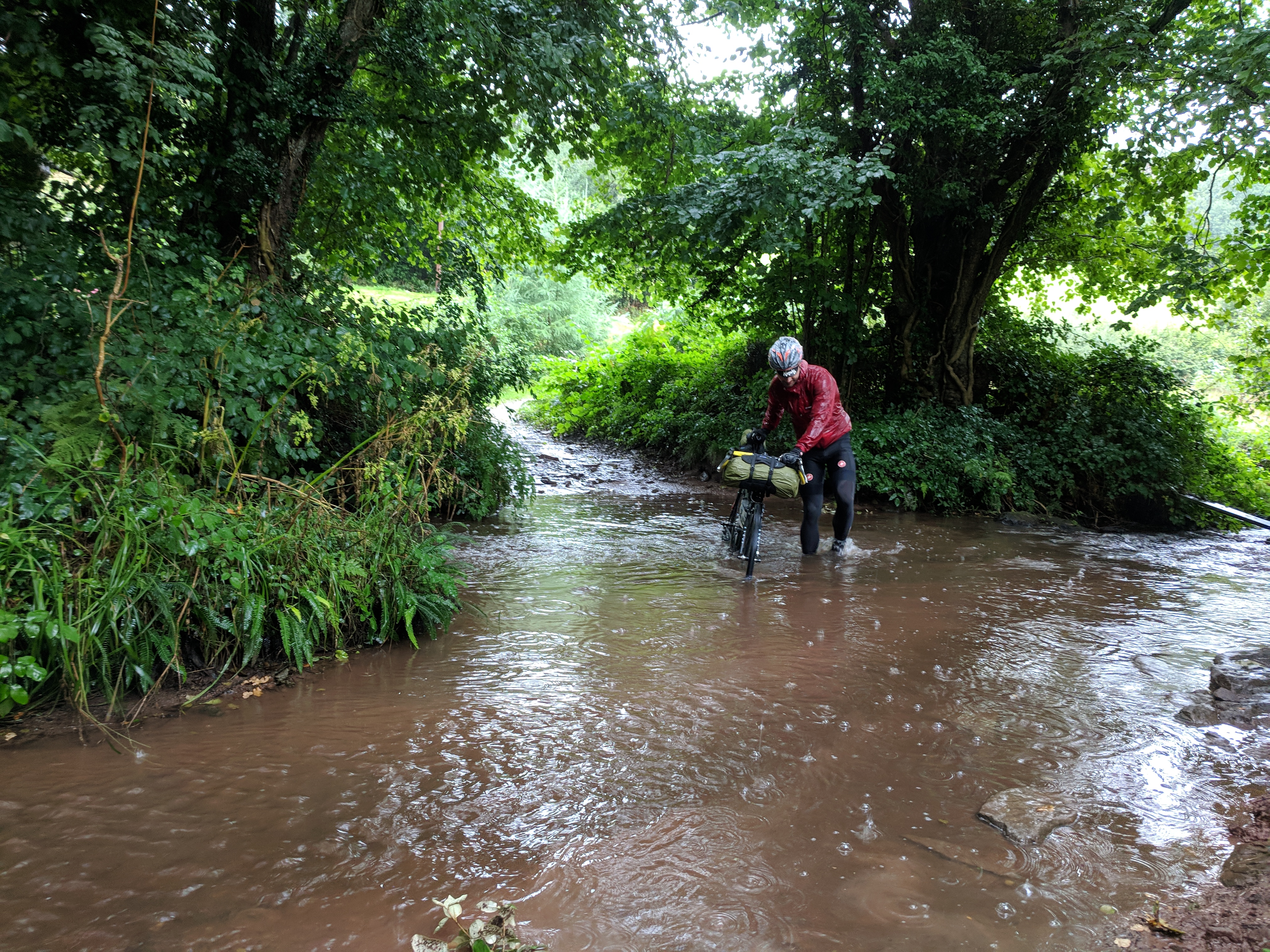 Reluctantly leaving the deserted and beautifully quiet Wentwood, we descended back on lanes (Sustrans Route 42) down to Usk, where we sheltered next to a log fire and did our best to wring out our sodden layers and dry off over many cups of tea and hot potatoes.
Next on the menu was the back lanes climb out from Usk, leaving the Wye Valley and up onto the Southern spur of the Brecon Beacons. Pretty darn steep in places, and passing a remote pub having a music festival (?!),  the tarmac ended and gave way to a dark gravel road. Here starts the gravel switchbacks, where you're indulged with the view down across the valley as you turn back on yourself, and before you know it popping out on the moorland top, some 365 metres up.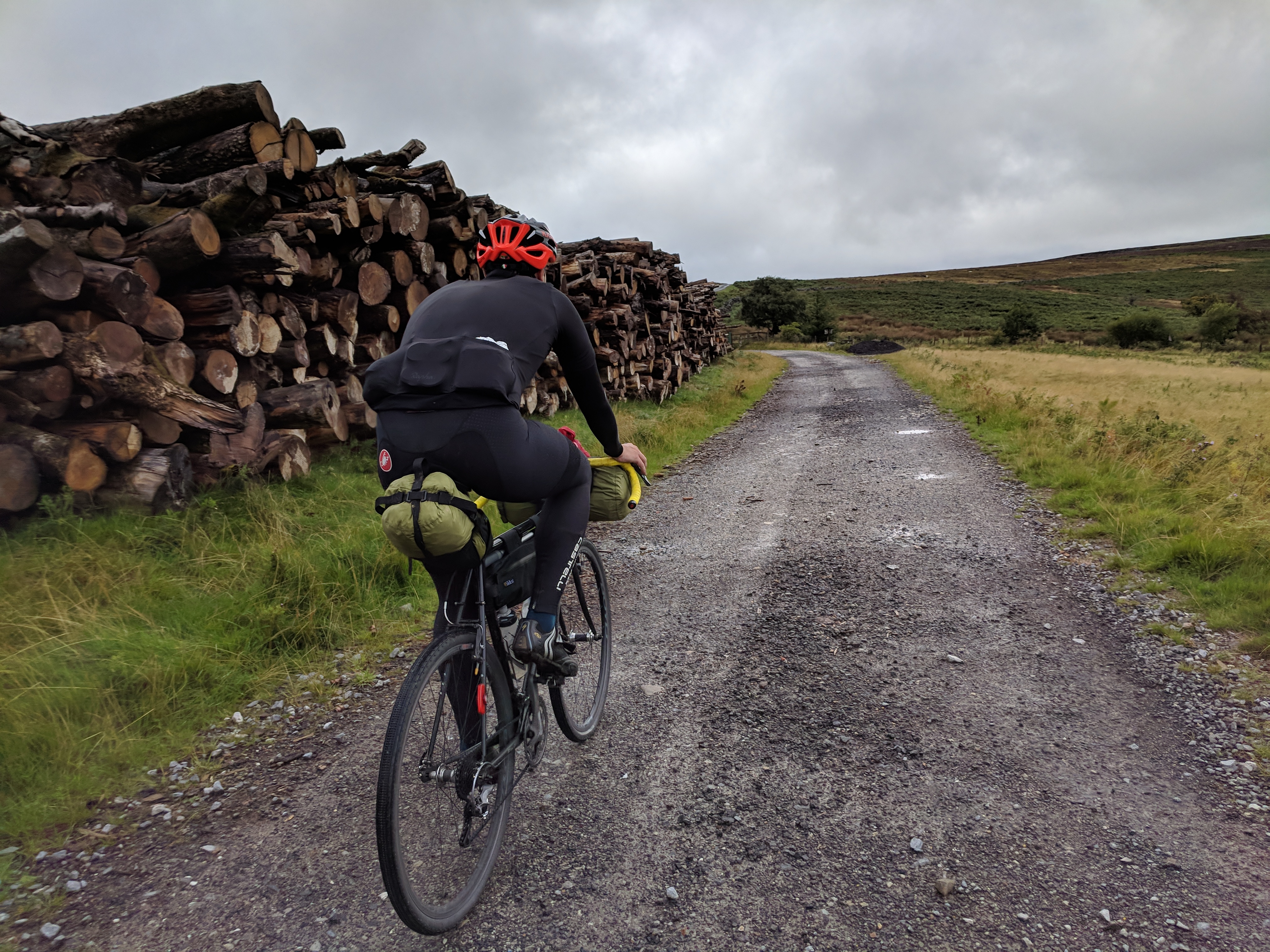 Through the former industrial iron and coal towns of Blaenavon and Brynmawr, the rain started to ease and become more intermittent. After a stop for dinner in the only pub still serving food (curses of starting on a Sunday), we had some light left to make the last leg up into the heart of the Beacons to set up camp for the night.
Now if you want a truly spectacular way into the National Park, this is it. From an inconspicuous bridleway start by the Heads of the Valleys road, the gravel track heads North to Trefil through moorland pasture, and then back onto the Trefil tarmacked road steadily contouring the first peak, gradually gaining elevation. As the light was fading, the landscape became more and more remote, cliffs of rock and abandoned mine works poised on top of them.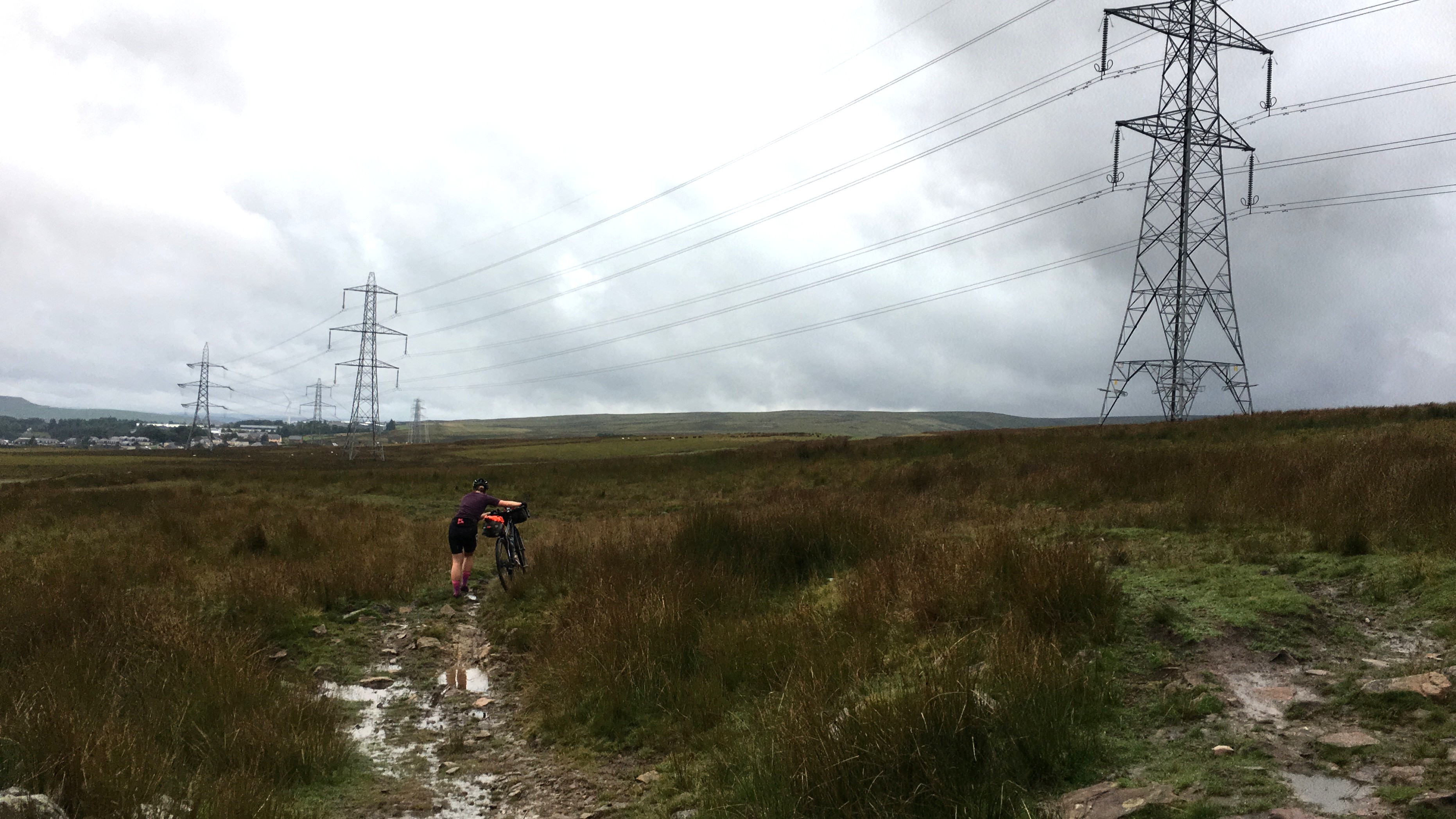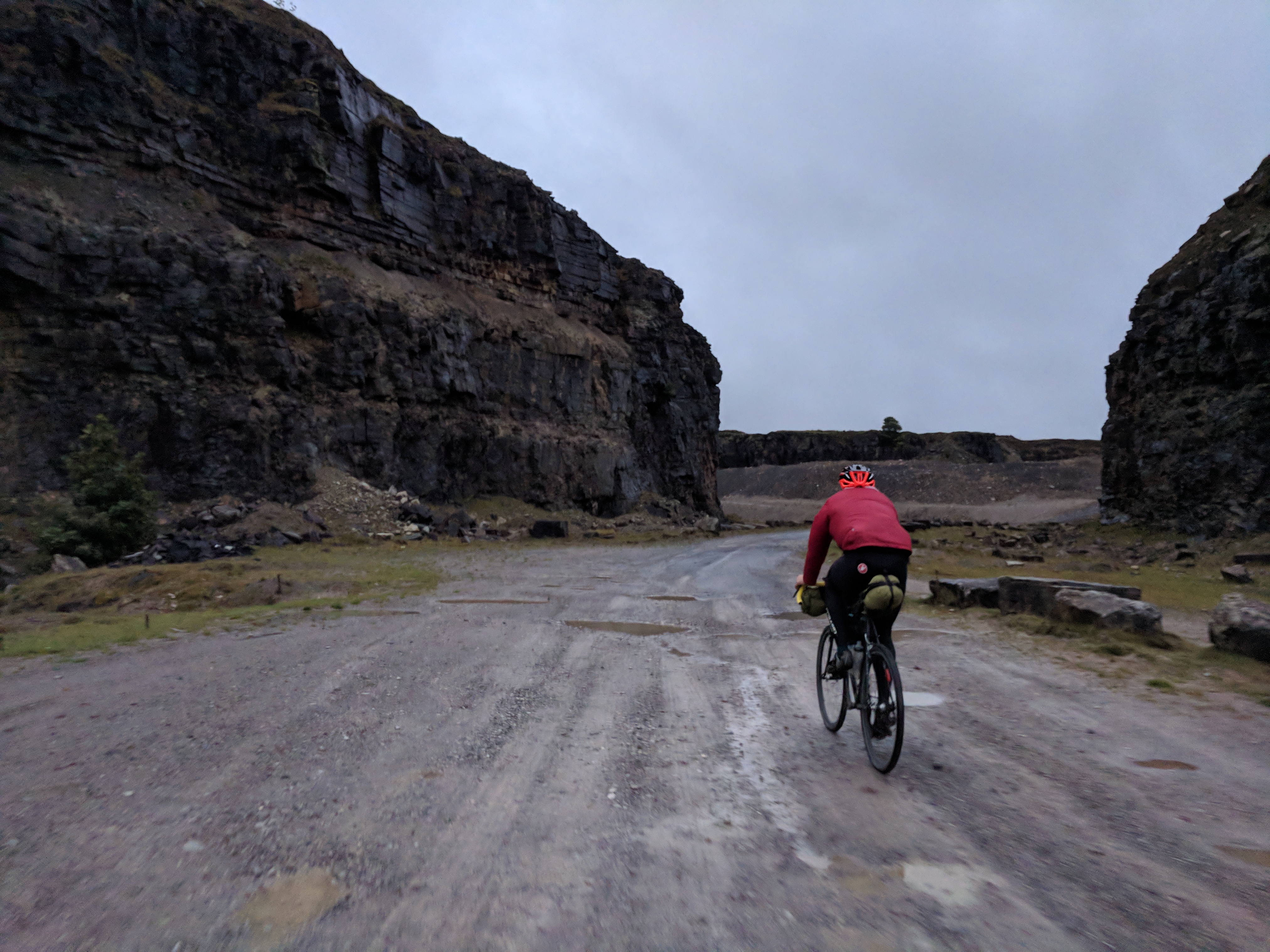 The plotted route took us off the now gravel road, but soon it was clear that it would be impassible. Deep bog and no clear trail was not the way we wanted to spend the night – so rerouted along a bridleway down to Pontsticil Reservoir.
With the head torch now proving it's worth, it was one of the most fun descents of the whole trip, navigating the grassy, muddy, slip-slide track in the pitch black through the odd steam crossing and down past the cows to the village. Oh, and Sam stacked it first too, which meant that it was his turn to get the coffees in. Win.
Dark and damp is no good way to find a bivvy spot, as we discovered. Maybe an hour of following the tracks along the Reservoir and peering into forests later we bunked down fo the night, in a gently sloping pine forest just off the main trail.
Day 2 Brecon Beacons – Llanwrtyd Wells ft. The Gap, 54km/1100m
Any self-respecting Mountain Biker from the SW or Wales will have heard of The Gap; part of the Taff Trail passing between Cribyn and Fan Y Big. At 600 metres, it was the highest point on our trip, and did we know about it.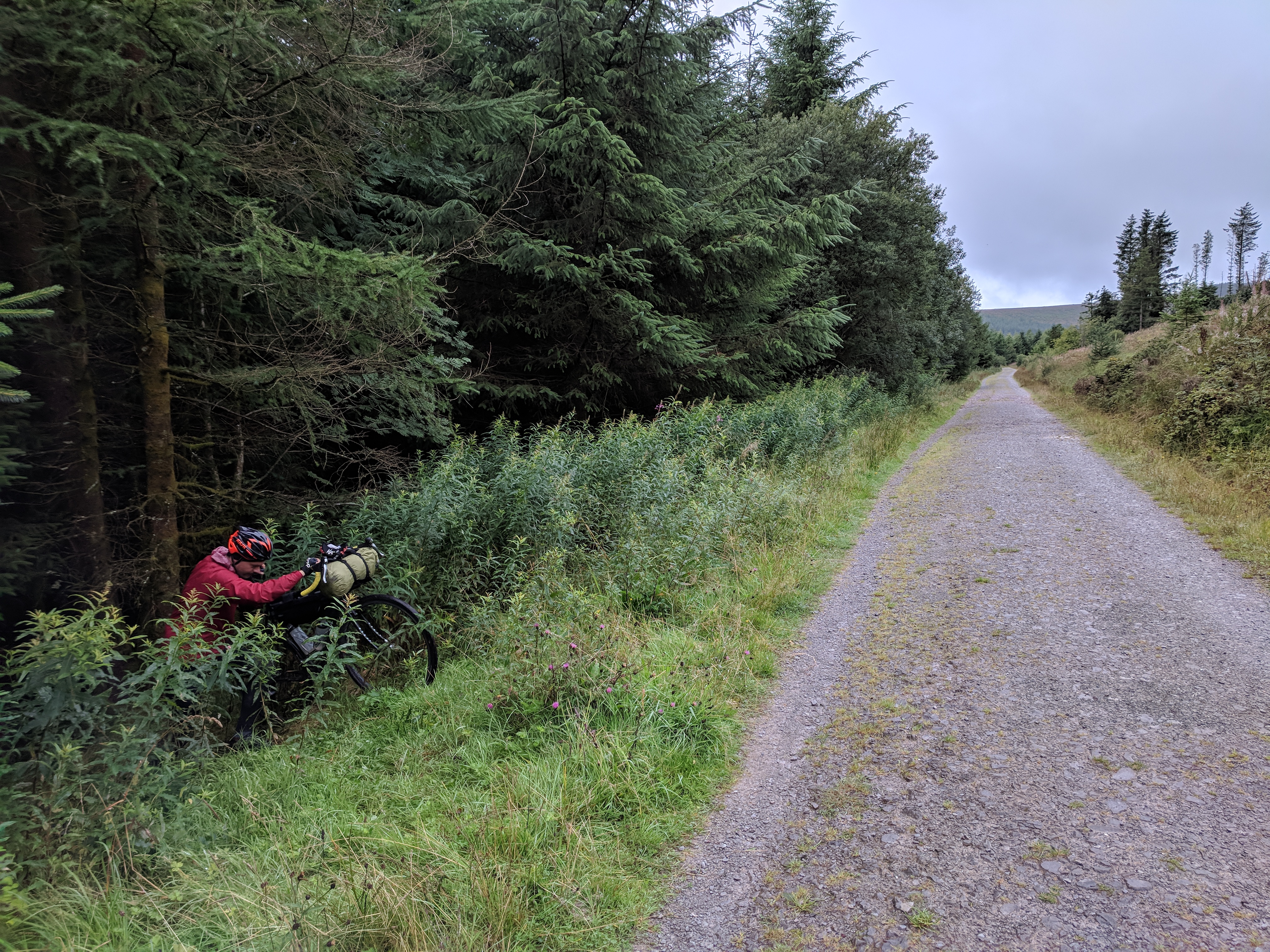 Popping out of the thick, lichen-dripping cover of our overnight bivvy spot, we were immediately on the trail and set to go, flapjack munched for strength. It was a chilly, misty start. Starting with the Southern face, the climb up to The Gap wasn't new to me, having ridden it in the snow at New Year's (part of my Festive500 Off Road) – but back then the snow somewhat compensated for my lack of technical climbing ability. No help this time.
On gravel bikes, it's a techy road to tackle, winding back and forth to find the best line, splashing through the stream that merrily makes its way down the rocky road. On a full sus – as ably demonstrated by the cheery chap behind us – it's a piece of cake. But that's what I kinda like about riding my drop bar bike – when the two other MTBers descended past us and gawped "you're not going up there on those are you?", "there's some technical trails up there you know". It's not easy, but the fight kinda makes it all the more sweet.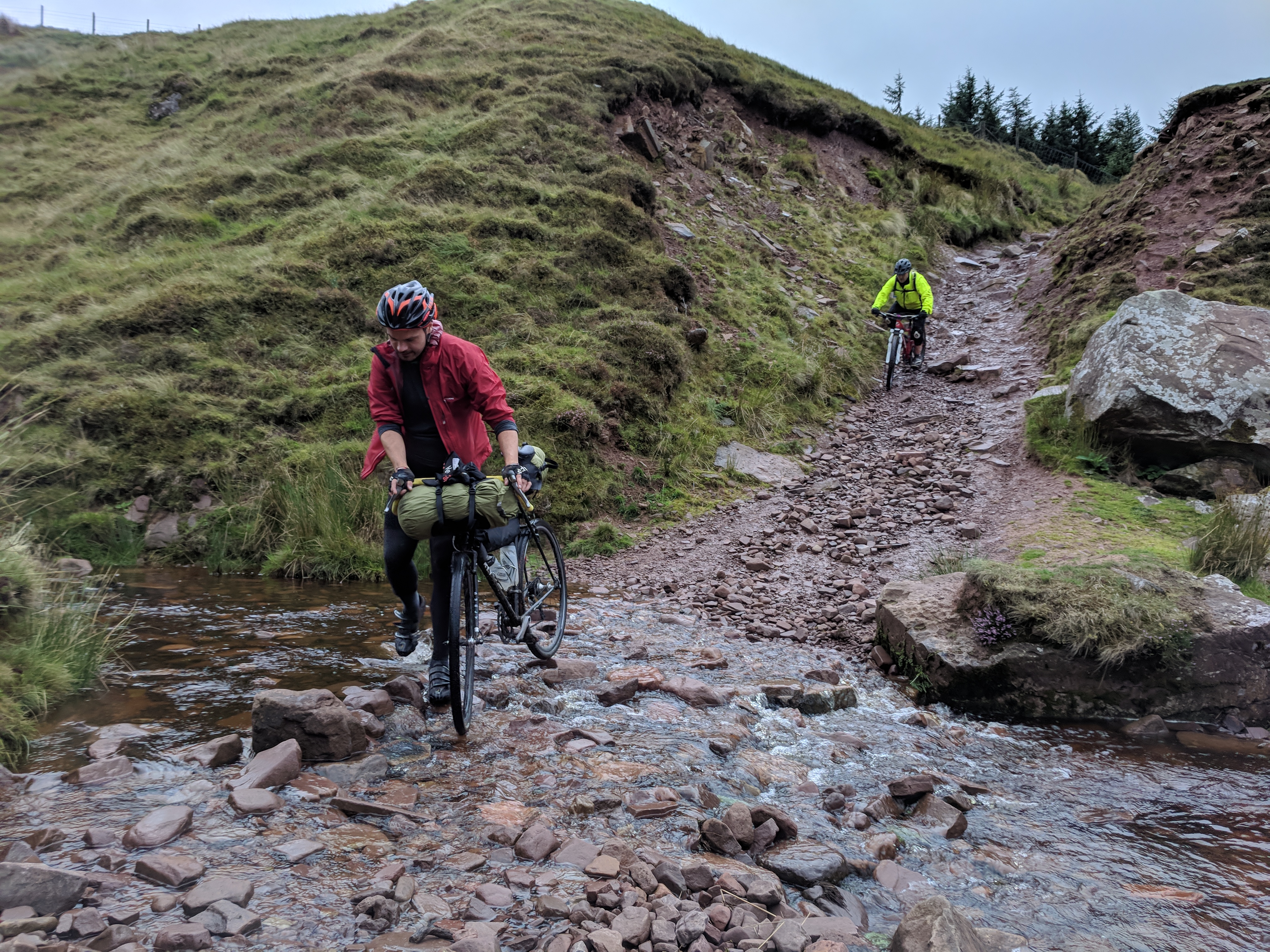 When it gets tough (I'm not technically gifted at ALL (yet)) there tends to be a lot of self-coaching going on. I muttered and squealed a little bit all the way up, near constantly on the edge of a bail, or celebrating tiny victories of keeping going where a few months ago I'd have unclipped in fear. Turns out if you just keep pedalling you can pretty much roll over most stuff.
At the top of The Gap a D of E instructor waited out for his hiking group, joined by his loyal but very sorry looking Collie, and we caught up with Mr. Full Sus. It was just bleak up there – not so misty that you couldn't see down into the valley or where you'd come, but not good enough to want to hang around for any time at all.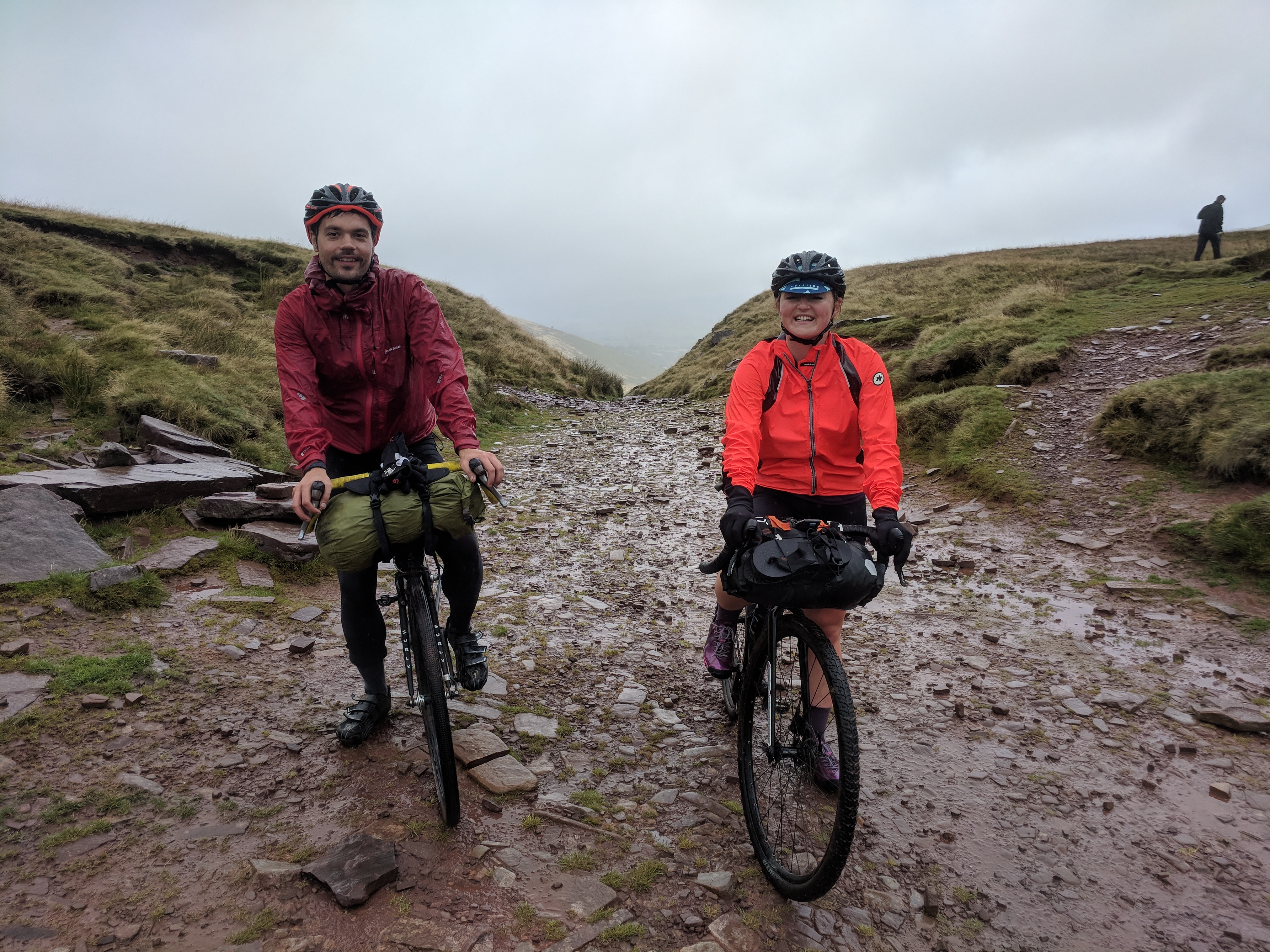 Next came the descent – which we'd been warned was 'a bit more lumpy'. Well, that it certainly was. After maybe 100 or 200 metres of pushing/scrambling/stumbling the worst of it had passed, sheer rocky drops that was far, far past my remit. Hopping back on, we both tustled and battled with the start of the descent, huge great rocks sent you bouncing in unexpected directions.
The more it went on, the easier it became. Too easy in fact, when the soft and silky feeling grass verge (right next to the rather terrifying edge) suddenly narrowed out on my line. Turns out that you can commando roll quite well when the moment hits – and it was a very favourable landing over the angular and hard rocky trail.
Bones suitably rattled and knuckles white, we reached the grassy lower slopes and were spat out suddenly onto tarmac. It had only taken us two hours to make 7km, and we were pretty hungry too.
After the world's best veggie sausages, mash and gravy (what a breakfast), the route led us out on a steep lane to this beautiful grassy moorland in the Glyn Tarrell valley. A real treat after the rough, albeit wildly beautiful, morning that we'd had.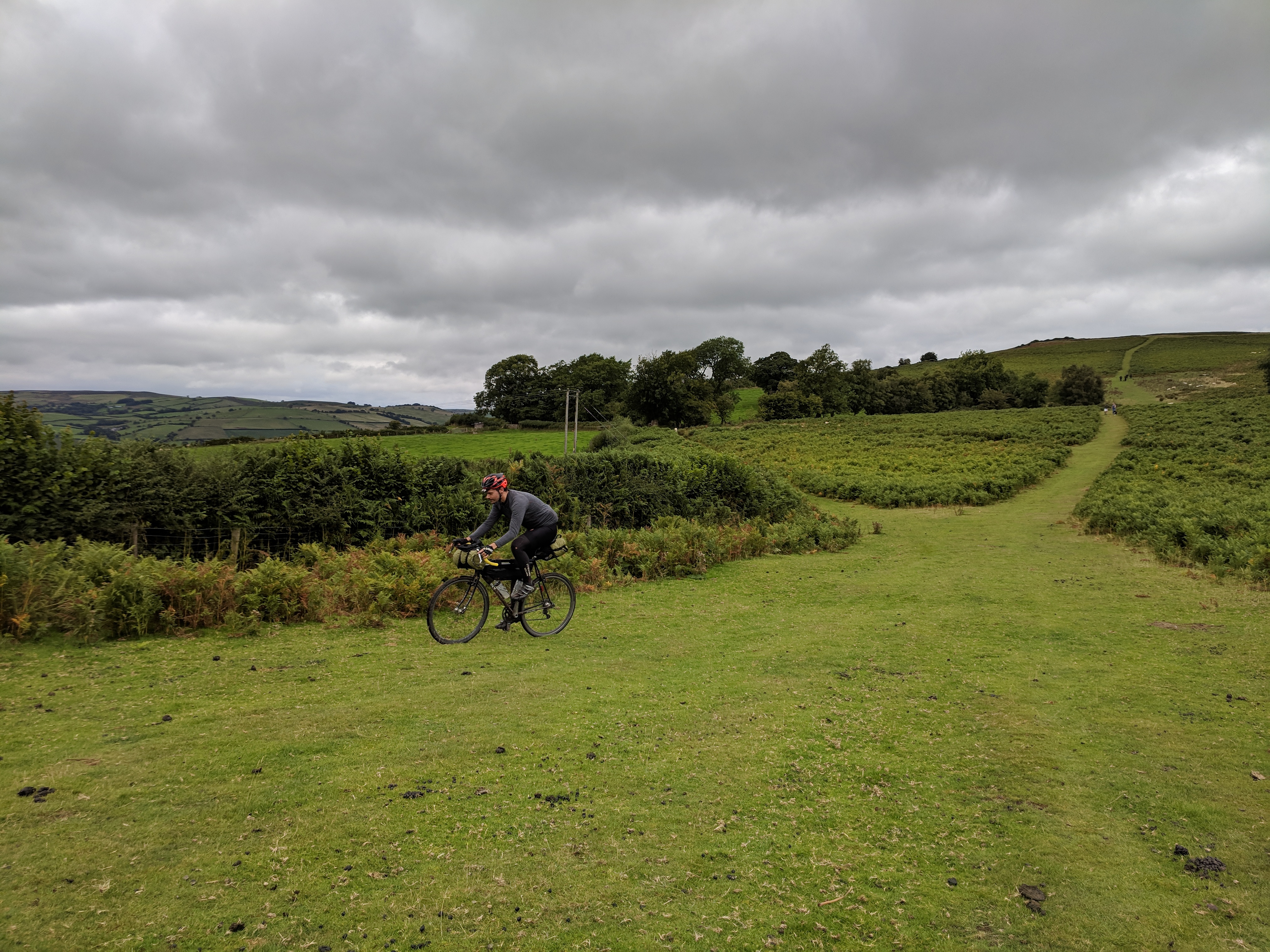 Reluctantly waving the Beacons goodbye, we set out again on lanes, past a village Fete and narrowly escaping an angry farm dog attack (a traumatising experience for both Sam and I). Thankfully the climb led out onto a gravel road again, the Beacons already distant. Past more sheep and red flags looming – not a good signal. After some time trying to decipher the military signs, we concluded it was best to carry on, sticking strictly to the Mountain Military road through as planned.
It was a beautifully smooth, undulating black tarmacked road, occasionally met by troop laden jeeps or army personnel carriers. Rather surreal again. The last turn was a definite no-no, so we opted for the lanes route to finish the day with our *wonderful* hosts Paul and Kathy in Llanwrtyd Wells, the home of the World Alternative Games and the UK's smallest Town. If you ever want to visit somewhere quirky with an insanely strong community vibe, check out Man vs Horse, the World Bog Snorkelling Championships or simply spend a night in the Neuadd Arms, chatting to the locals.
Day 3 Llanwrtyd Wells – Machynlleth AKA ONE OF THE BEST DAYS ON A BIKE EVER, 105km/2230m
Scratch that, one of the best days – on a bike or otherwise – ever.
If you're feeling a little inspired by this (I sincerely hope you are – not sure if my stoke really comes through) then DO go and ride this day even if you can't do the whole route! 
Let's set the scene; there's freshly laundered cycling kit, dry and clean, toasty hanging above the cottage Rayburn, and the table is crowded with jars of homemade or bartered marmalade, cut honey, freshly baked bread and home baked granola and a cafetiere of hot coffee. Then Emily Chappell turns up on the doorstep – she's only ridden 30 miles already to meet us for breakfast before I show her the light (take her off road).
Okay, for the bikepacking purists amongst you, I get why you might think it's cheating. But I'm easing myself in gently, ok? Plus I was very glad to get all the sodden kit from day 1 freshened up.
So off we went, maybe just a mile or so out of the town and onto the gravel roads that characterised the whole day. Twisting loose roads climbing up as Emily recounted tales from Strathpuffer, her latest projects, guiding Le Loop this summer and all my bikepacking questions saved up for the expert. It's certainly a way to make the climbs pass quicker – which is no problem at all for Emily, whose skillset is directly opposite to mine! Therefore, she's a killer climber.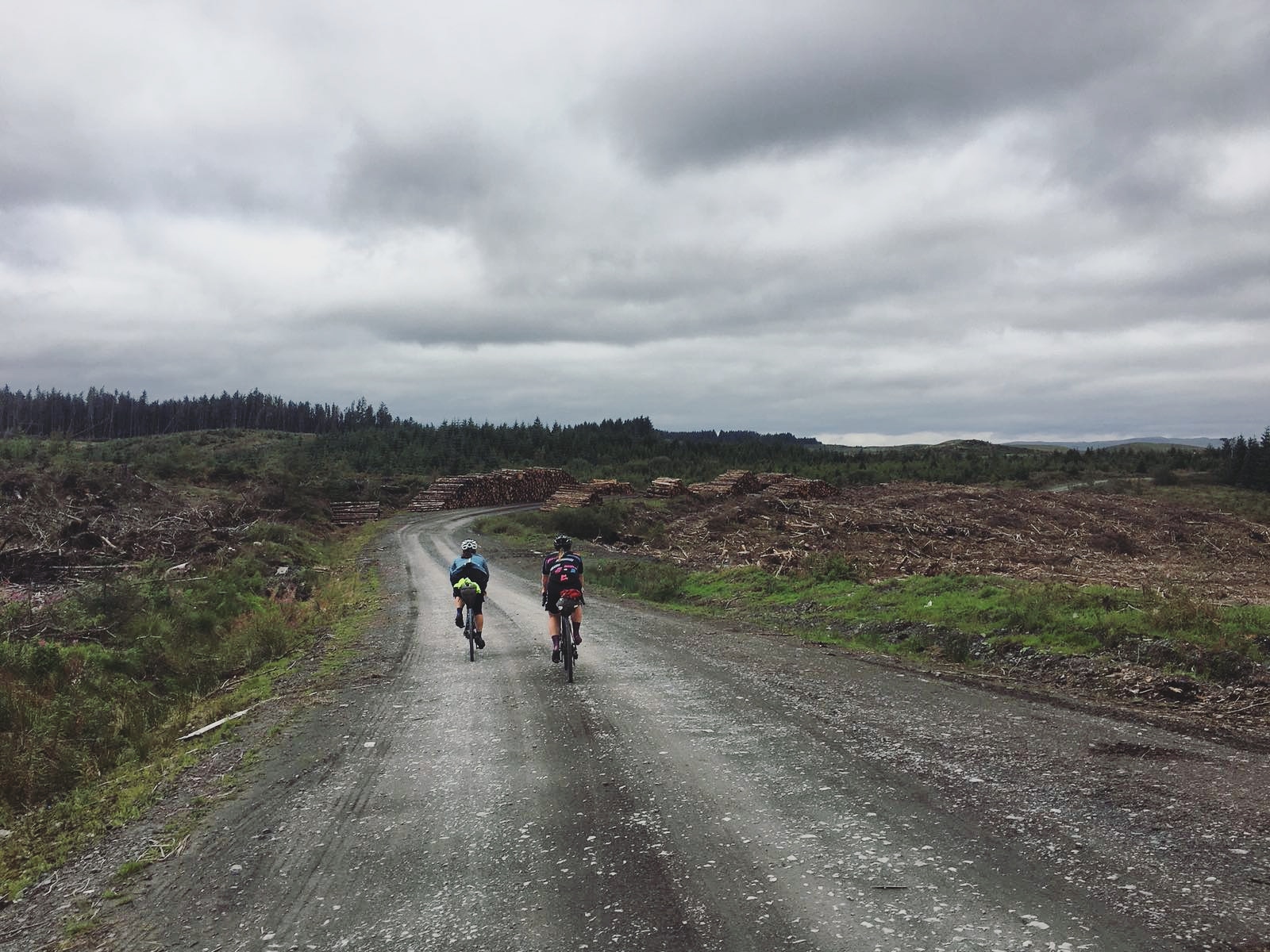 It wasn't long until we dropped down onto familiar gravel roads – descending one of the timed segments from Gritfest back in June. A brief but spectacular stint on road delivered us to the staggering Llyn Brianne dam, crossing with eager anticipation of the miles and miles of gravel roads I knew lay ahead, tracing around the shores of the man made reservoir. Water levels were surprisingly low, with the hot and dry summer we've had. Like the aging rings of a tree trunk, concentric tide marks stretched down to the shore – you could only imagine the vast volume of water that was absent.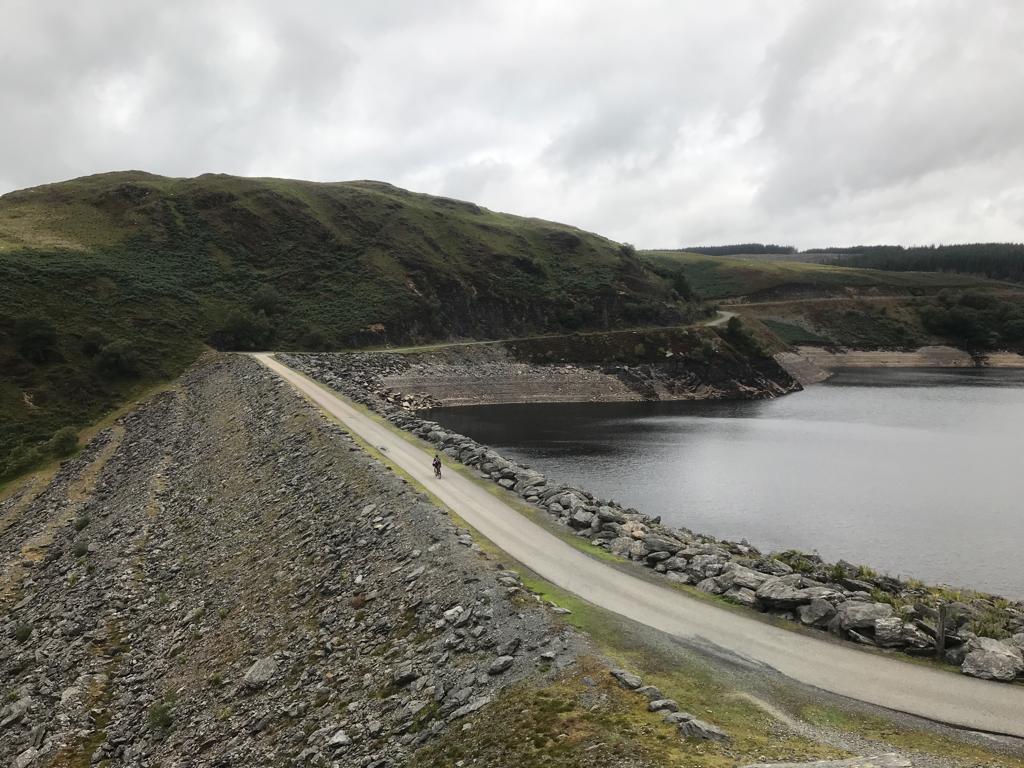 Most fascinating for Emily was how well these gravel roads connected up the stretches of asphalt in between that she was most familiar with. Even though this was virgin territory for her, it was still like we had a tour guide for the day. There really is no other place – at least in England and Wales – quite like it.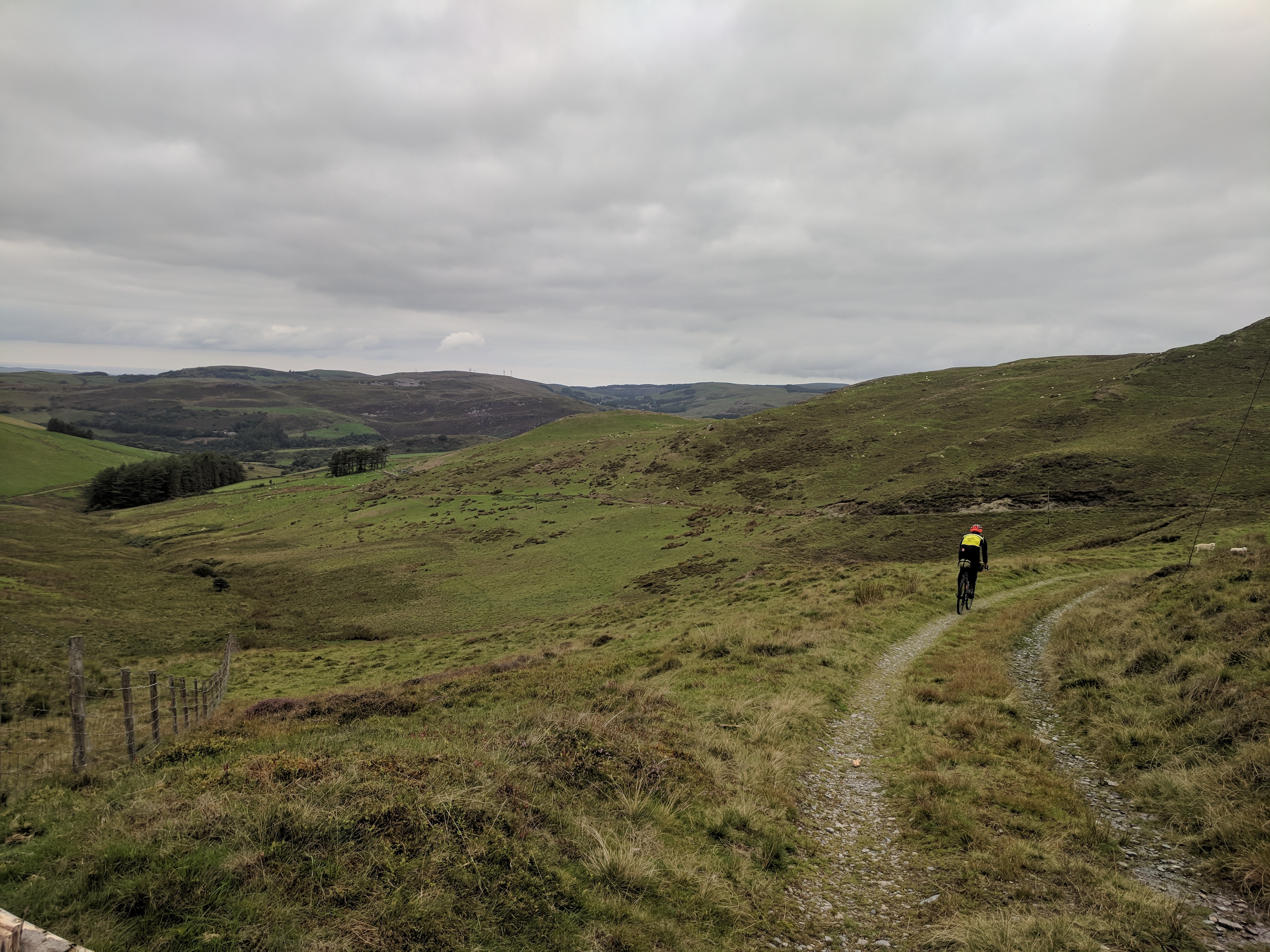 55km of incredible gravel roads later, as we'd sped down a fair few kilometres of wide, winding forest descent, we rolled into Strata Florida past the Abbey ruins, and into the village of Pontfhydfendigaid. We knew that this would be the most remote day of them all, only now happening on the first shop of the day after over 4 hours riding. Luckily we'd packed pockets – and bumbags – full of sandwiches and snacks. Having learnt the hard way last year at PubDuro, there was no way I'd be running out of fuel supplies again.
Restocking on snacks and unable to find an open pub for a cuppa, we were delighted to find the pub at Ffair Rhos serving to satisfy the now strong tea craving. A short 6km on the quiet, undulating road to Pontrhydygroes and we were back off road again, on a gravel doubletrack heading into the beautiful Hafod Estate, through woods and landscaped fields following alongside the Ystwyth river.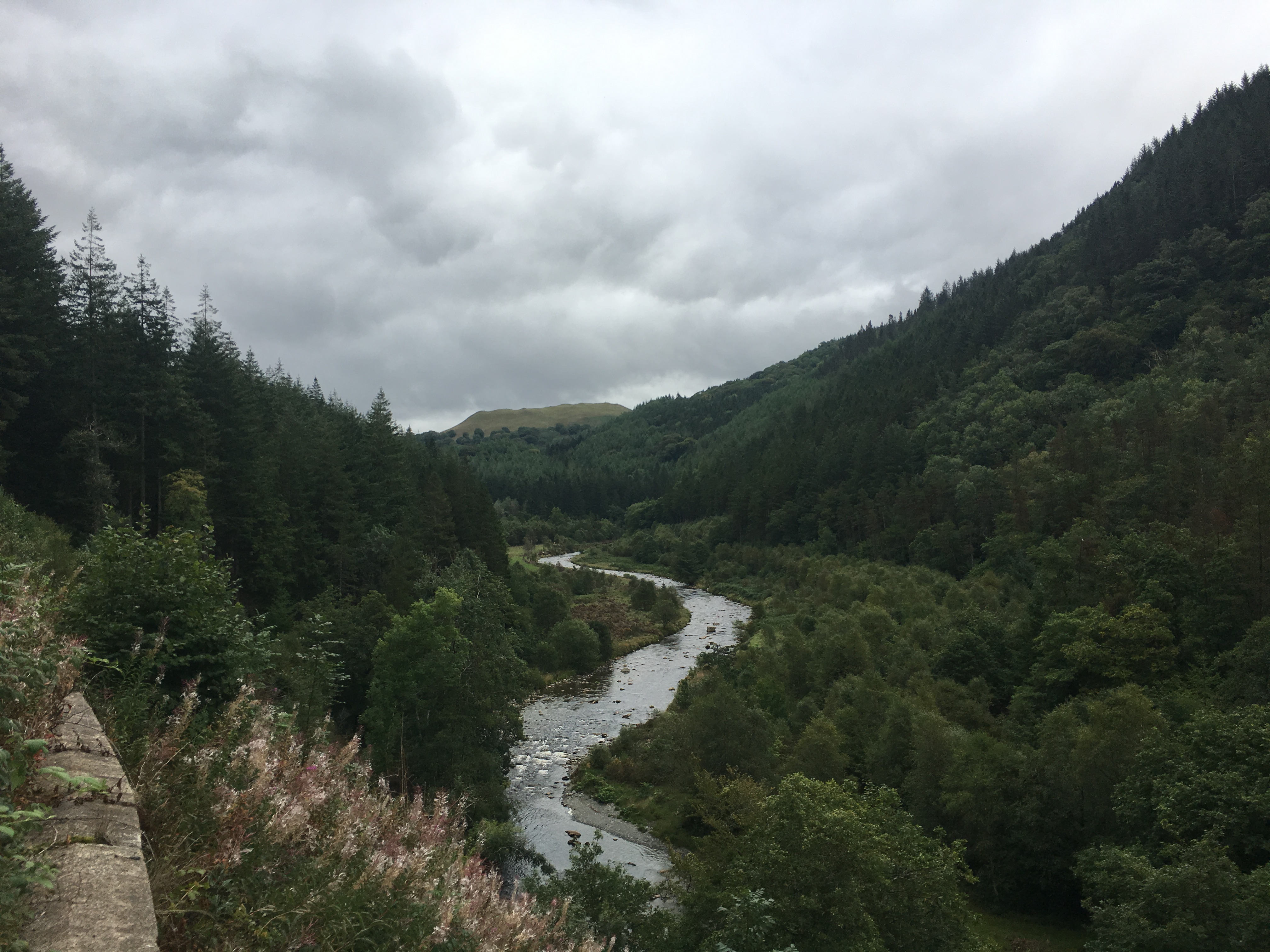 It was sad to part ways with Emily, now mid afternoon, as she turned off as we hit the road to head hack home via Devil's Bridge. Having some extra company for the day was a real highlight for Sam and I, especially when it's someone as interesting as Miss Chappell! We were thrown straight into a tough road climb up to the Hafod Arch, built in 1810 to celebrate the Golden Jubilee of George II. Thankfully again we sloped off the tarmac and onto more forestry gravel roads, with spectacular views down into the next valley. Passing Nant Syddion Bothy and with some more testing bridleway climbs thrown in for good measure, we meandered through the woodland still heading North.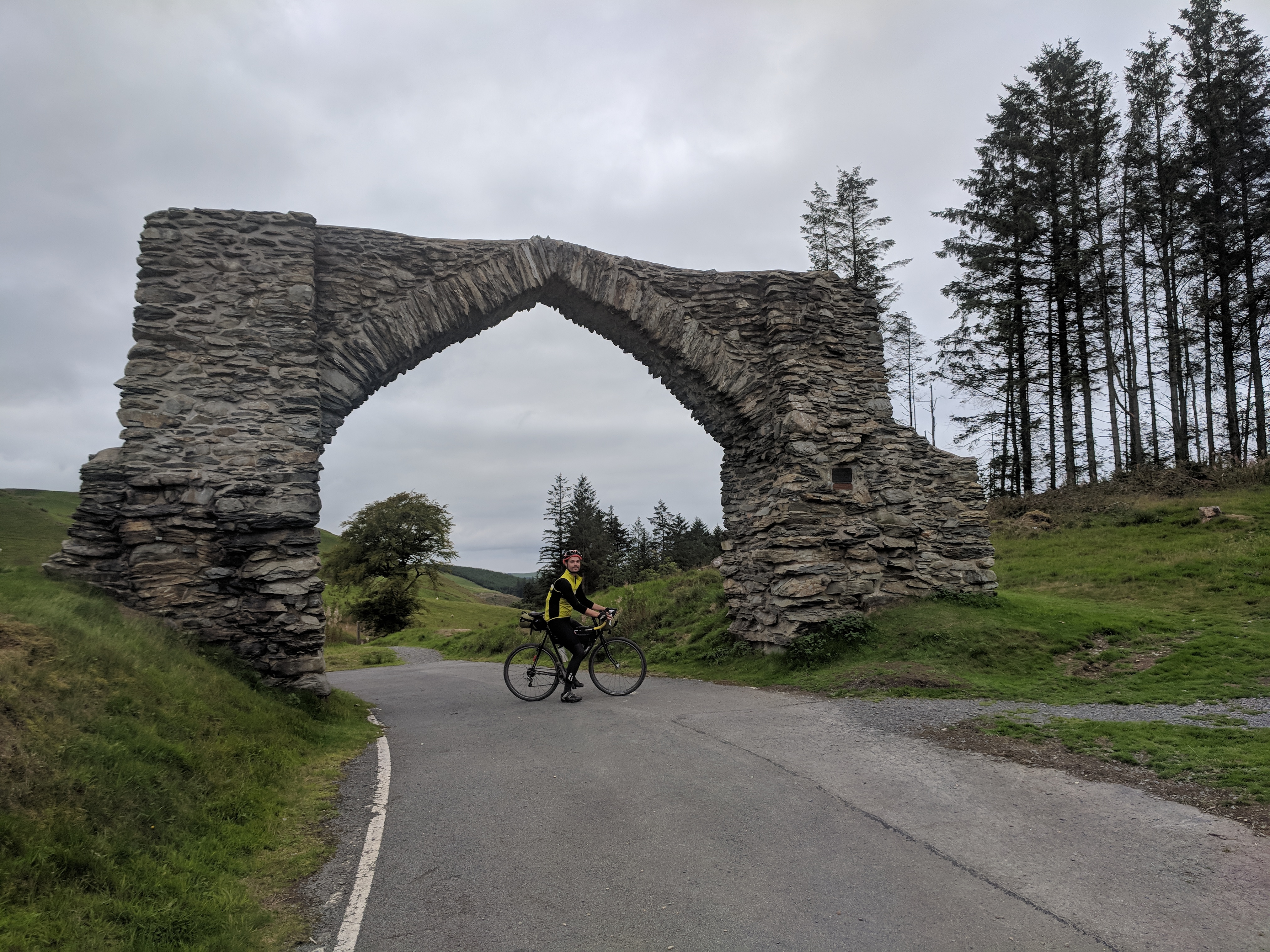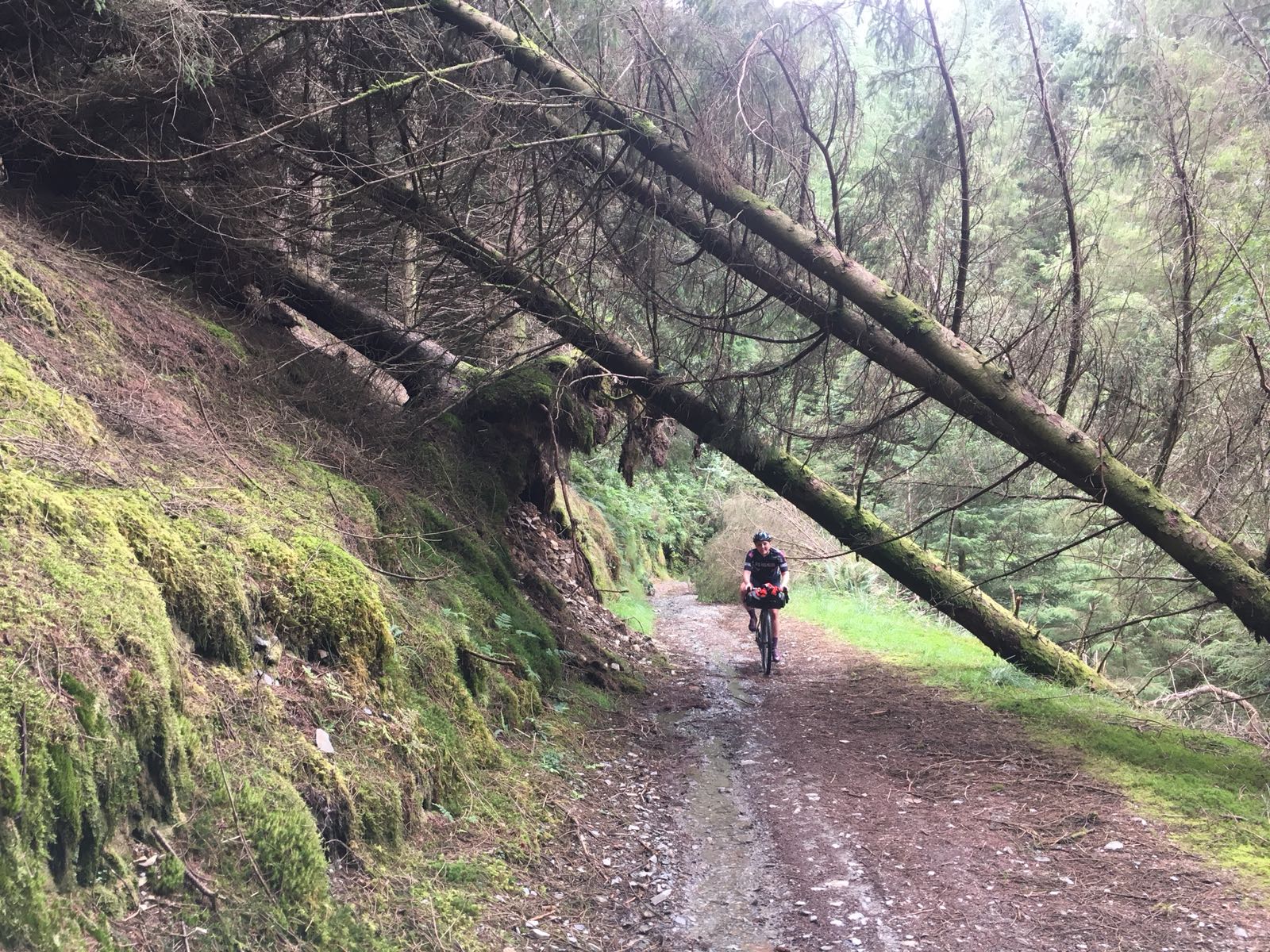 After some bikepacker's tapas from the petrol station in Ponterwyd, i.e. a shared selection of nibbles and some revitalising ginger beer, we were in for the most spectacular 30km of the whole trip to finish the day. If you'd have told me that then, I'd have laughed in your face, unable to conceive that it could get any better.
It was the remoteness of Scotland; not a house or vehicle, pylon or anything man-made in sight, bar the rocky double track that we were bouncing along. With Nant-Y-Moch reservoir to our left, we tackled the technical trail – at least on gravel bikes – rutted with sometimes shallow, more often deeper muddy puddles. I was casting my mind back to my first taste of gravel in the Cairngorms – in the bowl of remote mountains you simply wouldn't be able to tell the difference.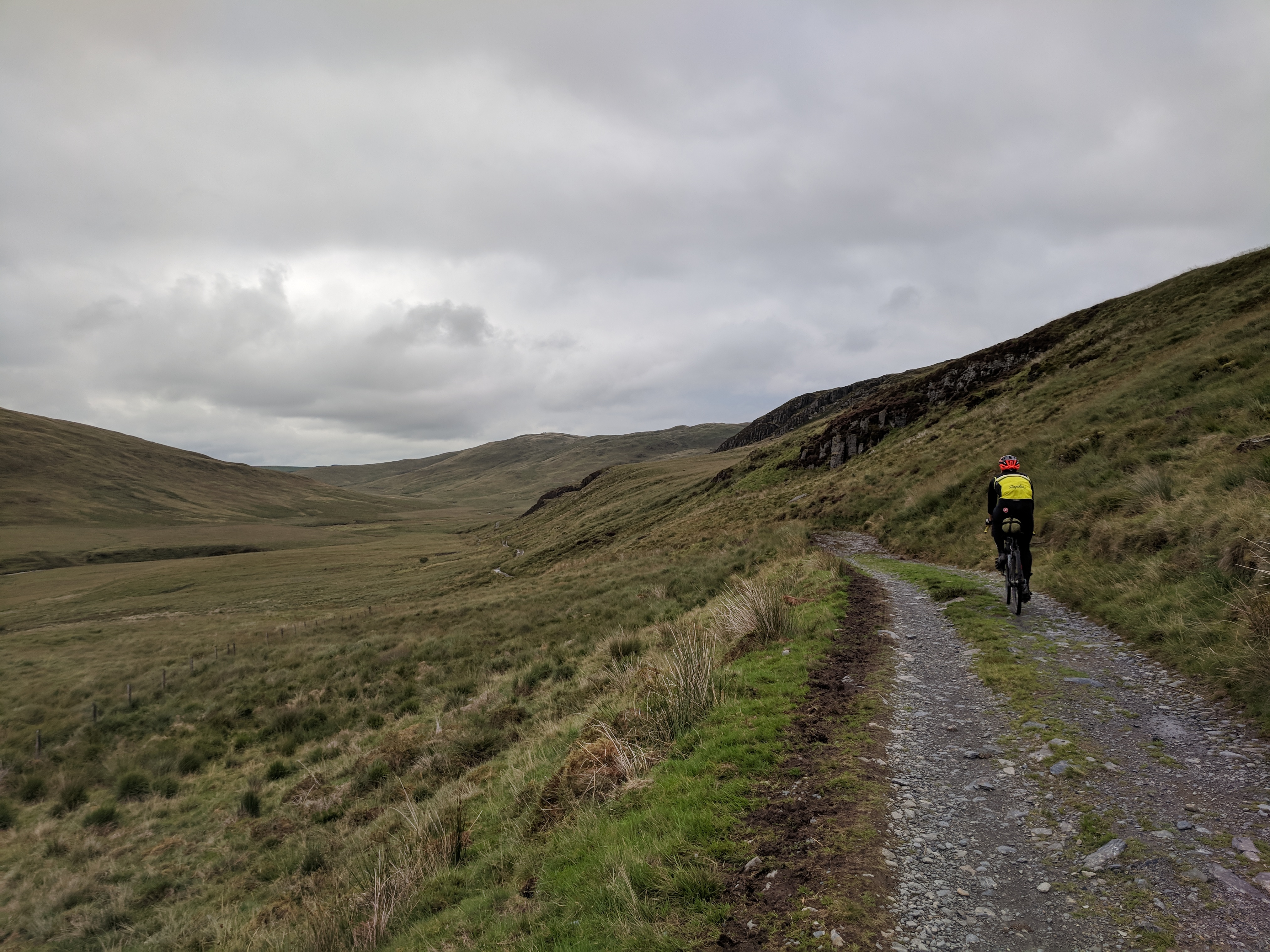 It was with some excitement that I was met with a proper river crossing now – the Hengawn. Maybe 8 metres wide and knee deep, it's the picture postcard of remote bikepacking dreams. You just can't think about getting your feet wet, it's inevitable. Not quite as inevitable as going neck-deep a few hundred metres later after slipping sideways in a very deep puddle rut. Soaked through, the two options were to laugh or cry; I laughed hard.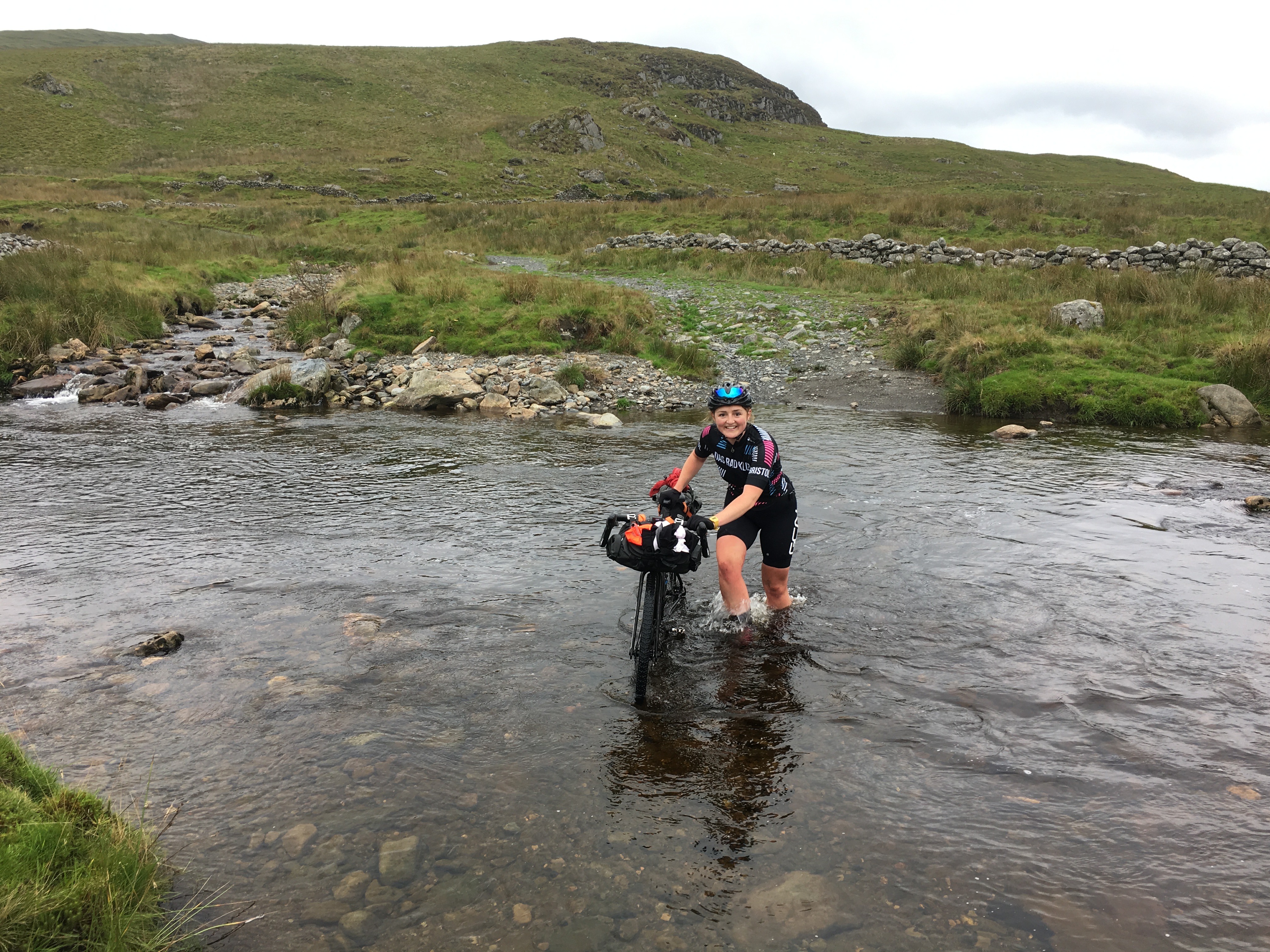 With 15km to Mach for the night and now with one soggy cold risk person, we nailed the last leg, popping out into woodland fire roads and a brilliant harpin heavy descent down onto the quiet lanes that led to the town on the Southern edge of Snowdonia.
Despite veggie Sam having to opt for a side dish special in the Skinners Arms for dinner, we met some real characters in their local and experienced the mighty custard/cream shortage saga, which made for fantastic evening entertainment. Overwhelmed by kindness by being welcomed into James and Fi's garden as it got dark, it was a surreal bivvy in Mach. And I won't pretend that stayed out all through the night as it started to bucket it down, rather than creep inside and kip on the cushty red velvet sofa.
Day 4 Machynlleth – Bala, Dyfi & Snowdonia – 60km/1496m
Thankfully a shorter day on the cards after the Cambrian Mountains, so we chilled out in Mach with James, Fi and their son Stan before the highly recommended Quarry Cafe opened. It's a vegetarian cafe in the heart of Machynlleth, the high street now buzzing on market day. Securing the window seat, we were sandwiched between views of the pastries from the Mountain Road Bakery Collective in the stall outside, and British Downhill Gods Rachael and Gee Atherton on the table opposite. I'm not sure which I was more excited about.
One *incredible* veggie breakfast down and copious cups of tea, it was time to roll out of the gorgeous Machynlleth. Following the road out over the Dyfi River behind a 70+ year old couple on a tandem trike in vintage woolen jerseys (#lifegoals), we soon reached the long gravel fire road climb into Dyfi Forest. And it was, very very long indeed. 3km and 300 metres of ascent later, we turned onto a narrow singletrack – here starts the fun! Or so we thought.
It was a few short minutes of skidding down the narrowly pedal-wide slate trail between the trees before it became evident that this was properly MTB territory and we were very much out of our depth. The joys of an untested route, eh? A bit of hike a bike later (downhill as well, ugh), and we were back on track with some more fire roads leading to maintained MTB trails, starting to pitch upwards again. It was really muggy, and the technical climbs were sapping energy from my legs.
Then, suddenly breaking out of the thick forest, the bridleway trail up and over the rough pasture land was one of the most magical of the entire week. Techy and steep in sharp rises broken with short relief, the doubletrack wound up the hillside, revealing the Dyfi Valley below in all its glory. I don't know if it was just because Sam wasn't feeling 100 % today, but I felt really strong. Now in my 4th day of sessioning off road, my confidence was certainly growing.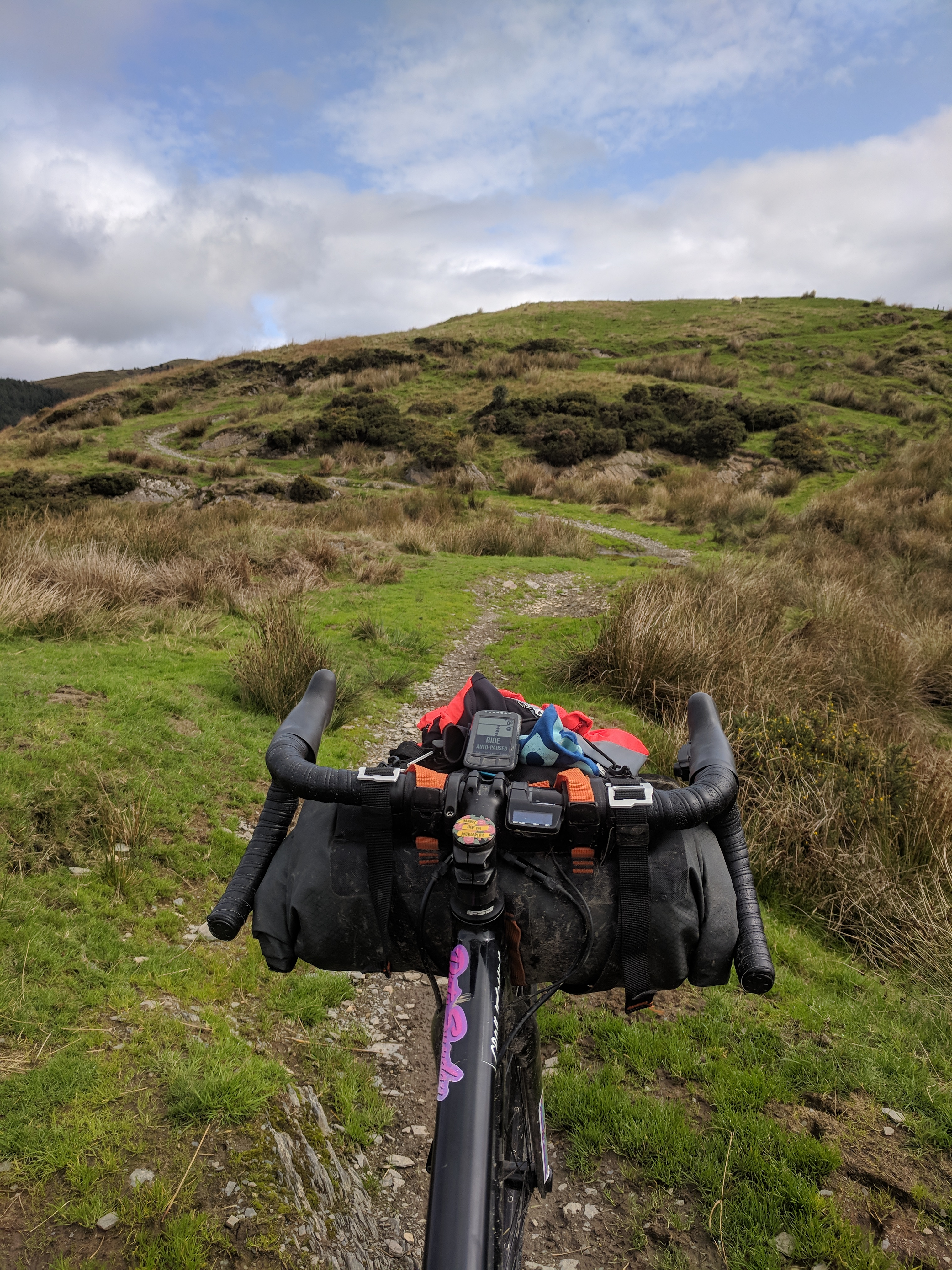 Scoffing the sweetness of my Mach Market cinnamon bun, looking out over the next valley and with some terrifyingly steep downhill trails on the hill opposite, we were about to drop back down into Dyfi Forest once again.
The severity of the trails notched up a level once again. Slate drop-offs and wide, loose tracks turned to deeply cut singletrack and back again – all the while following little blue flags which I can only imagine marked the Dyfi XC Safari event that James told us he was doing there on Sunday – on his Full Sus. As fun as it was (mostly ridiculous, skidding, slipping and sliding, squealing and seeing who would bail first) descending through the woods, it's a definite reroute for The Racing Collective. With no shortage of fireroads and more forgiving singletrack in Dyfi, there should be no problem doing that.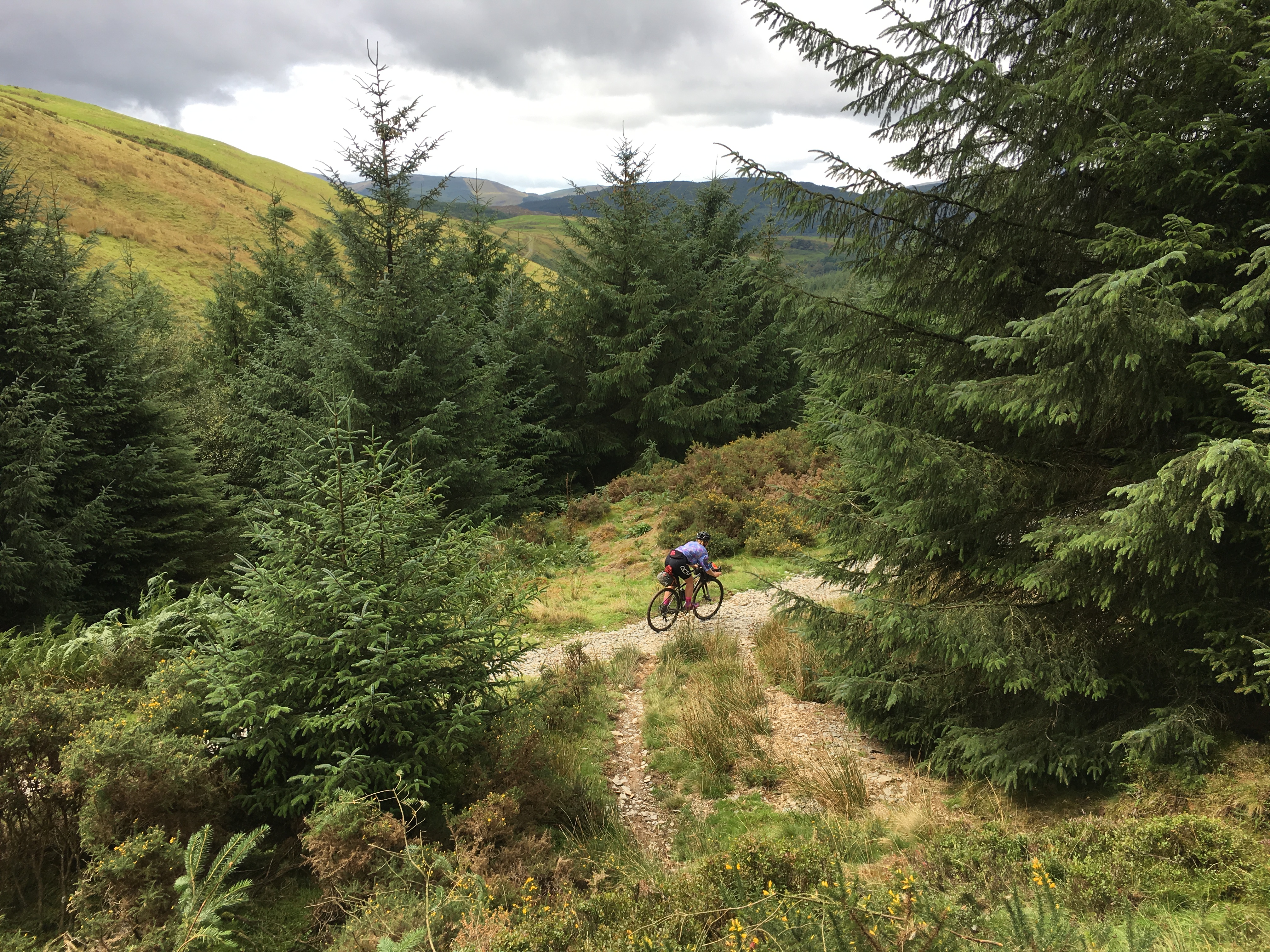 Another start with the techy riding up front, we were almost relieved (almost) to be back on road to head on North and find somewhere for a cuppa. Only the single carriageway out of the forest was crazy steep, before following alongside the Dyfi river. In the surreal ride past Aberangell, we must have been passed a dozen times overhead by fighter jets and military helicopters – which apparently flock here from all over the world to train. Not what you'd expect to find in deepest, darkest Wales!
For anyone who hasn't ridden Bwlch Y Groes, or Hellfire Pass, it's a struggle to describe how brutal it is, especially as a climb that's only 3km. Not as much of a struggle as it is to make it up the single paved road at pitches of up to 25%, although averaging 11% up to the summit at 545 metres, second only in height in Wales to Gospel Pass by only 4 metres. Oh, and it's rated a 10/10 in Simon Warren's 100 Greatest Cycling Climbs.
Rolling to the start in the valley, the very first tree shaded hairpin reveals the climb ahead, the straight, consistent line etched into the Aran Mountain up ahead. It feels impossible that in just a few minutes you'll be up there too. This was the part when again, despite being fully loaded and freshly topped up with water, I was damn glad of my 40/11-42: I was gonna need it. One thing I've learnt quite well this year is pacing – which showed as I steadily started to spin my way up this beast of a gradient, not going any harder than I needed to to keep progressing. Sam attacked the Bwlch – and learnt the hard way.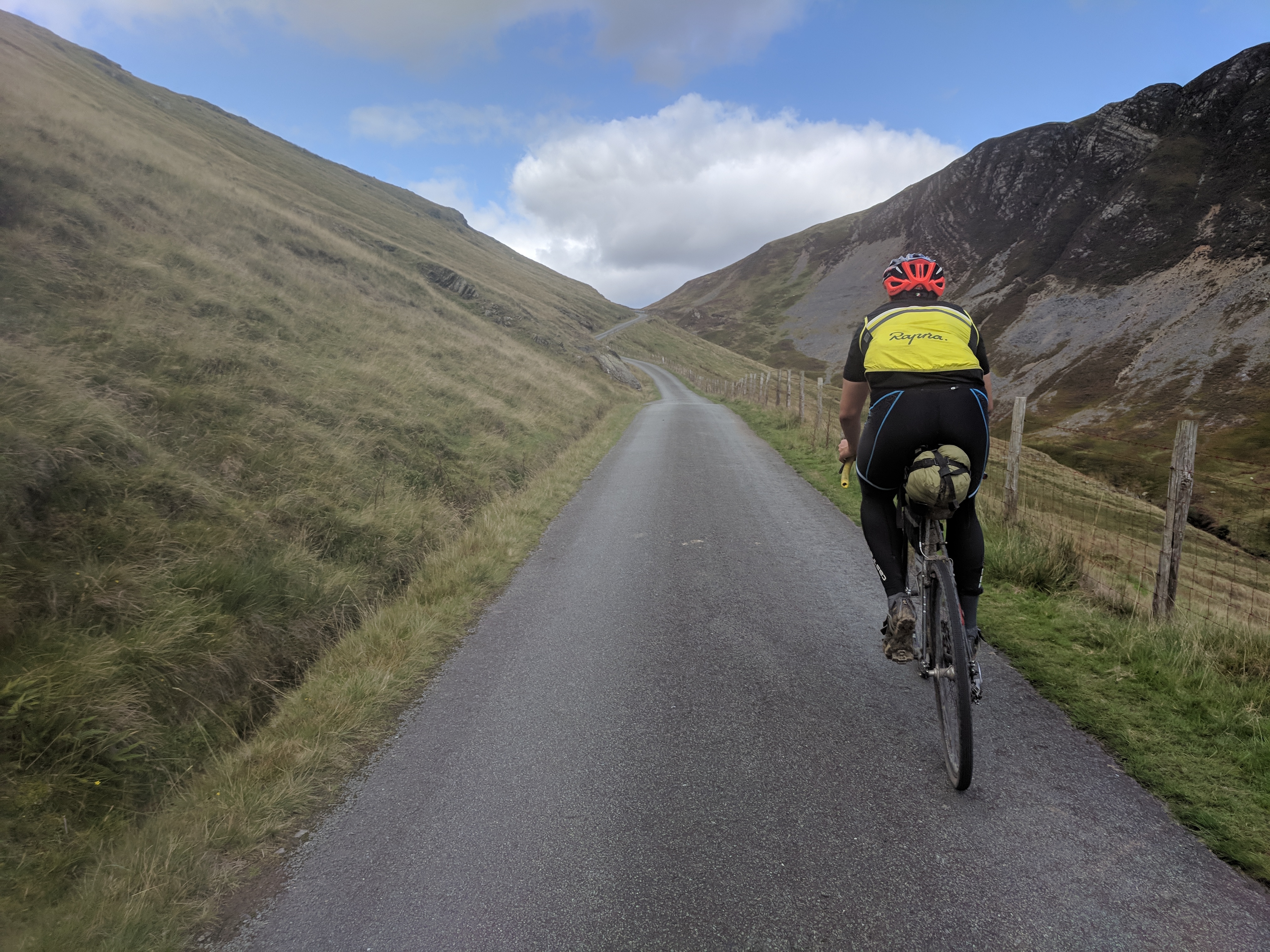 Some half an hour later we were triumphant at the pass, Dyfi Valley to the South and looking into the heart of Snowdonia over the crest to the North. I was excited and full of beans, mucking around riding the tussocks on the top, whereas Sam looked half dead. Thankfully it was plain sailing from here – the wicked descent down to Bala Lake, and then following the water's edge along the road to the town itself.
Another bivvy night on the cards, we noshed an early dinner after a well earnt pint on Bala high street. Some bedtime snacks secured, we headed back out of the town to find a suitable spot. Avoiding being too close to the lake where it might be colder in the night, we found a bridleway to follow up into the woods, and after a bit of searching – thankfully this time in the light – we set up (a very minimal) camp in the woods, our best yet. Chatting in our bivvies as it turned to night and noshing chocolates rather than heavy pub-made sticky toffee puds, we were finally getting the hang of this camping out business.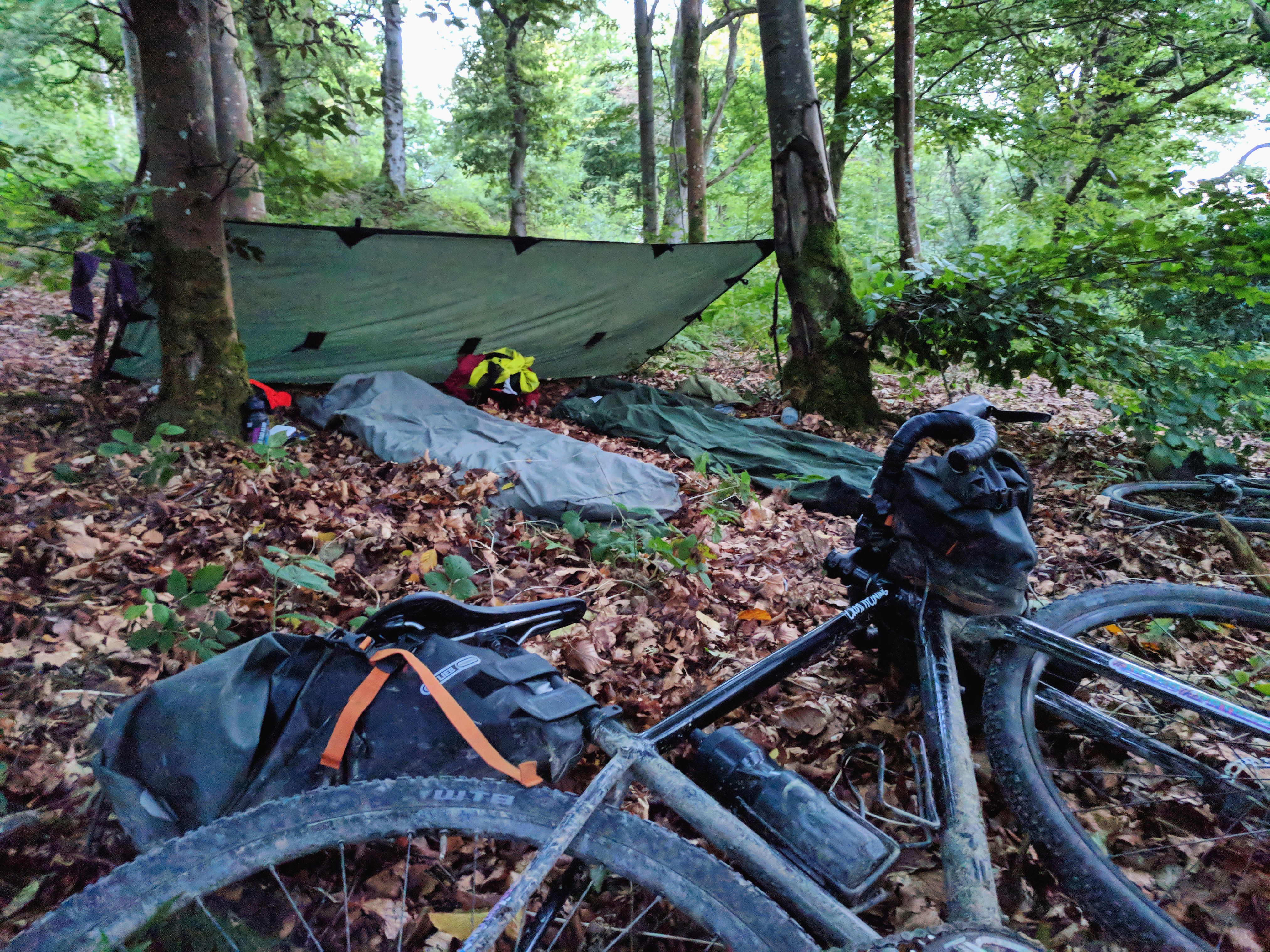 Day 5 Bala to Clwydian Range – 65km/1266m
After the best bivvy night's sleep, we woke up to 5 degrees – yikes! Peering my nose out from under bivvy and sleeping bag, it was already light but very, very cold! It took quite a while to summon the courage to get up, and it was a rapid pack up of kit to get us back down to town into a warm cafe for breakfast.
Rolling back down the hillside, wearing everything I'd packed – including bobble hat under the helmet (such style) – we were very smug that we hadn't camped near the lake. Solid, freezing mist would be no good way to spend the night, like the hundreds of campers stationed down there.
A true local's greasy spoon was about one of the only places with signs of life at 8am, so after a less gourmet veggie breakfast than Mach and a chance to thaw out our toes, we headed on, now turning East to traverse North Wales. The first stint on the main road out of Bala wasn't great, but soon at Bethel we turned onto very quiet lanes.
Despite the glorious sun shining for us today to burn off the cold, it was my turn today to struggle a bit. Sam was back on form and I was less than enthusiastic about all the tarmac we faced this morning. Relentless steep, sharp climbs on these back lanes were sapping my stoke, although they did yield a stunning view of the Clywdian Range – a ridge of 'lumpy' topped hill ridge that stretches North to South in North East Wales.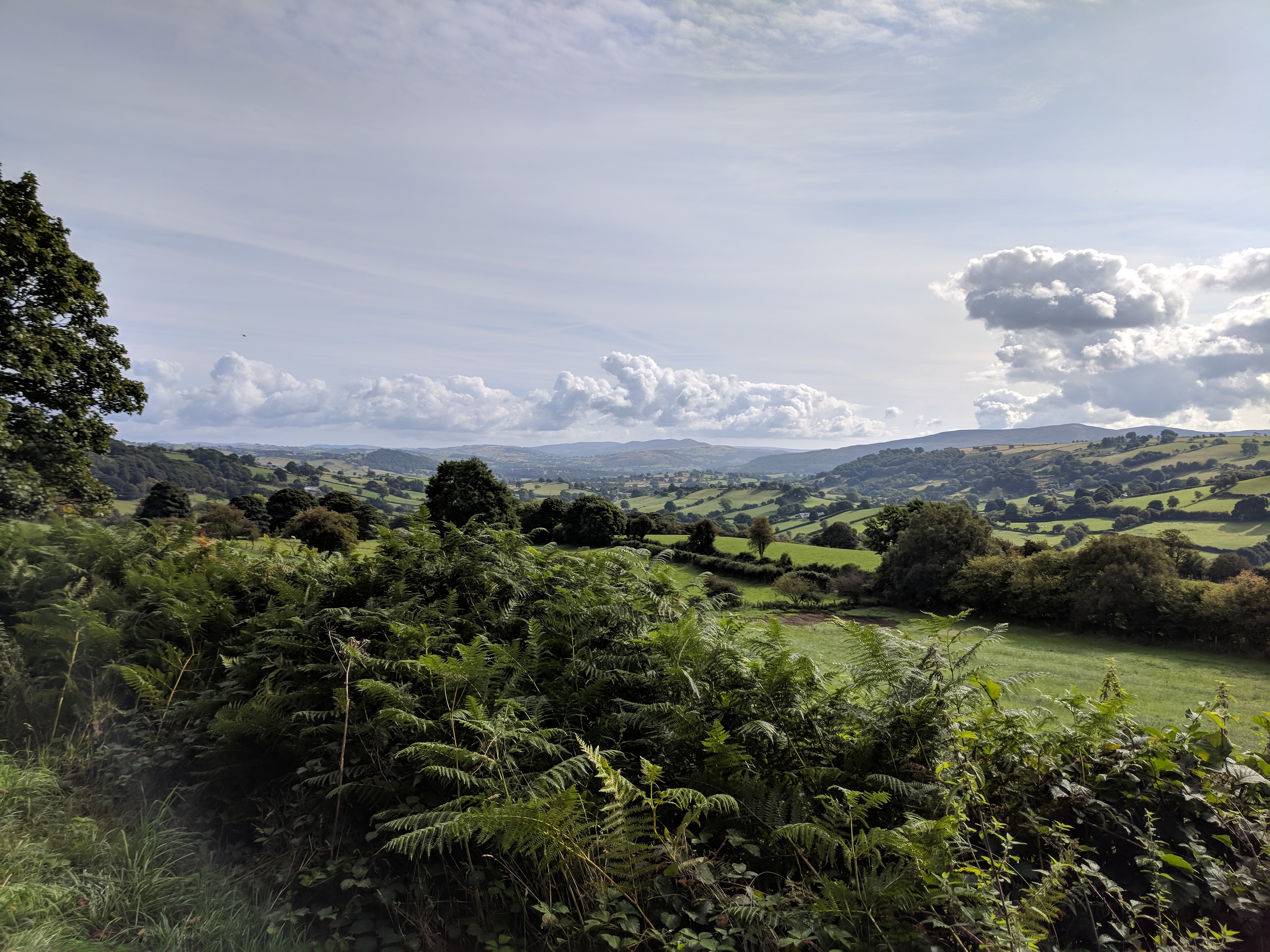 Passing through Clocaenog Forest on lanes I'd persuaded (read: forced) Sam to take a short detour through the woods, off the road. Just a few hundred metres of testing roots and slippy moss was enough to put a smile back on my face, before we descended the narrow and rough roads to Ruthin, our midpoint of the day.
Knowing the next 30km would be the toughest of the day, we stopped in a gorgeous cafe in Ruthin, sat out soaking up the sunshine and tucking away sandwiches and coffee. It proved to be tough to leave, too.
At the foot of the Clywdian ridge, we looked up at what we had infront of us on the approach; first up Penbarra, another one of Simon Warren's 100 Climbs, a road climb. After 2.3km it then continues up to the summit of Moel Famau off road – now that was the bit I was excited about.
Starting the road climb seemed okay, although I was strangely nervous. Narrowly weaving up between houses and woodland, it was a manageable gradient. Only when the road broke out onto the moorland, crossing the cattle grid and heading perpendicular up the side of the range did it really start to test. And in August it wasn't exactly quiet either – an almost constant stream of holiday makers driving (poorly) up to the road summit to ramble the last section with their families.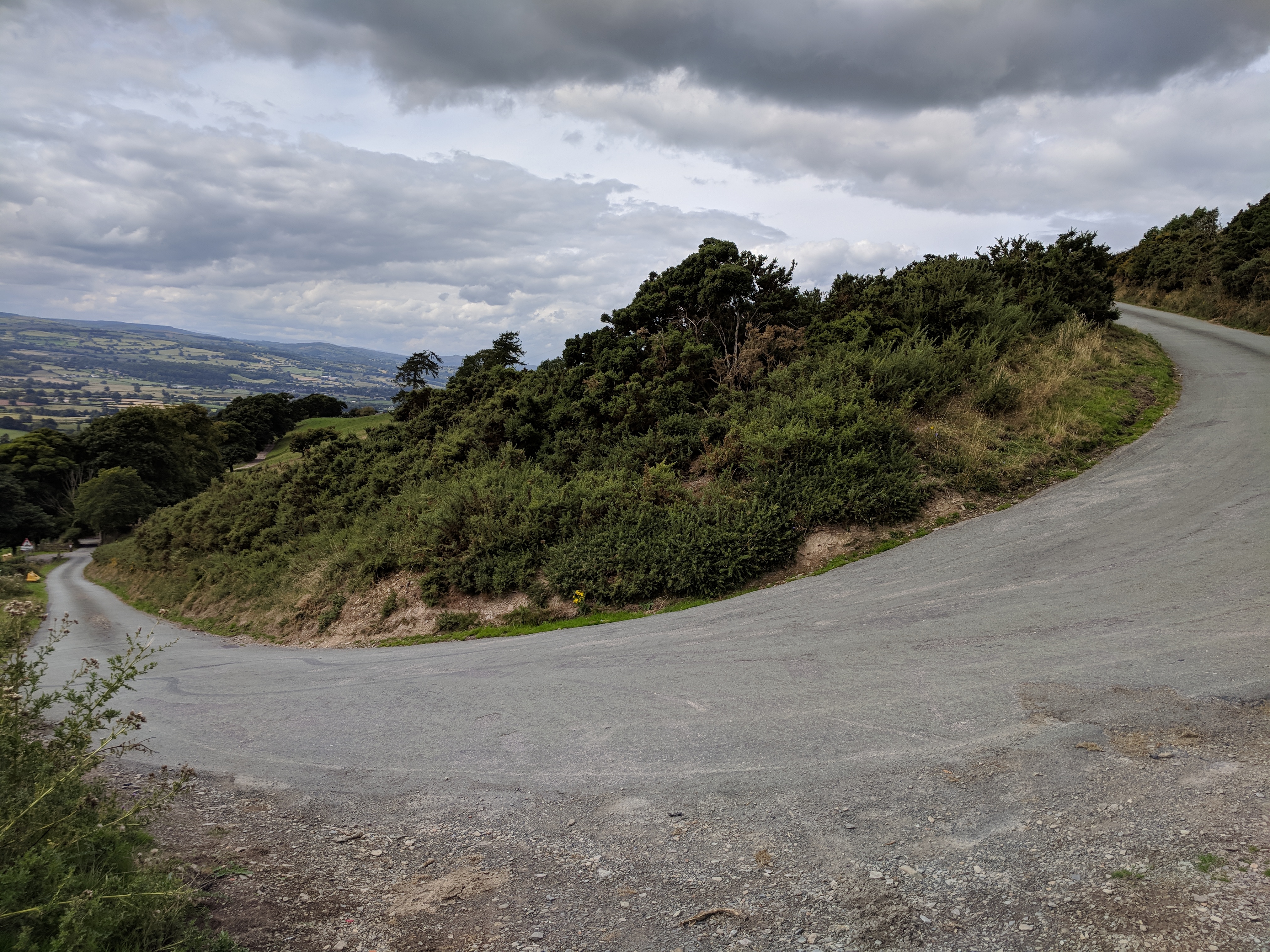 The 25% section on the hairpin proved too much for me, even before I reached it, battling both with today's legs and the impatient traffic. Resentfully I walked a stretch before hopping back on at the corner to grind up the rest of the road climb to the pass. Someone else on a bike was within distance following now – and I wasn't going to let them crest before I did.
That was the tough bit over for me. I can only describe the way turning off road makes me feel like someone who adores climbing – they see a hill and get stoked, attacking it, driven to get the very best time or beat their mates or whatever. When I see the trail turn loose and challenging, the stoke-o-meter revs up and the happy vibes flow to my legs – no matter how tired they seemed before.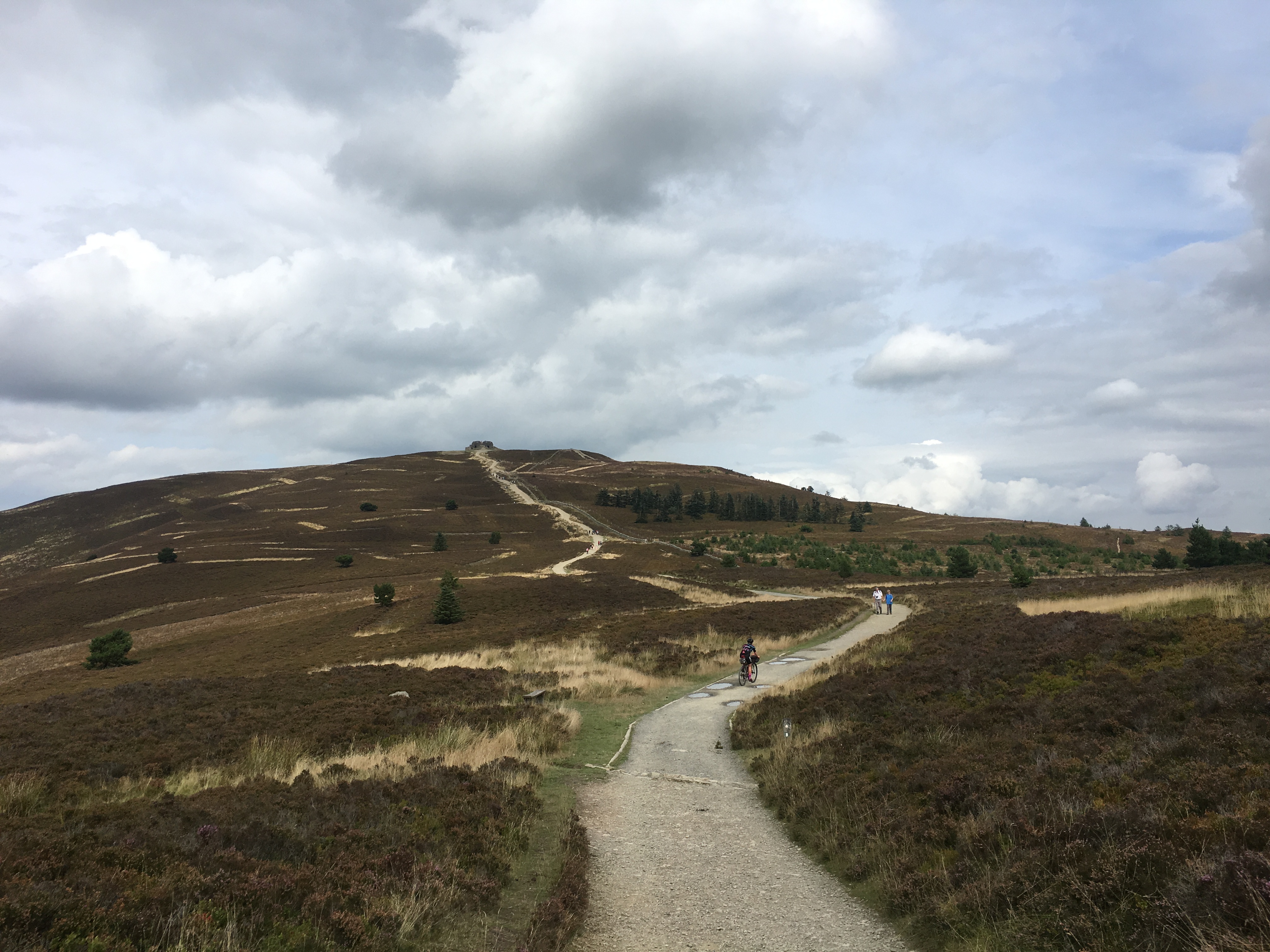 2.5km to the summit of Moel Famau, the stone built tower a top one of the ridge's several 'lumps', and totally gravelled, rocky climb. It was busy with walkers which you could see like ants climbing up to the Jubilee Tower, as the wide path pitched up in steep bursts. We started to climb, the stunning views back over to the West where we'd already come today. Towards the summit, each slope became either longer, steeper or more technical, each a challenge. Sam and I cheered each other on – I think it was only the gearing that meant I got further than him. When I was finally defeated on the last slope near the tower I hopped off and hauled the heavy laden bike onto my shoulder, striding up to the top; because Cross Is Coming, after all.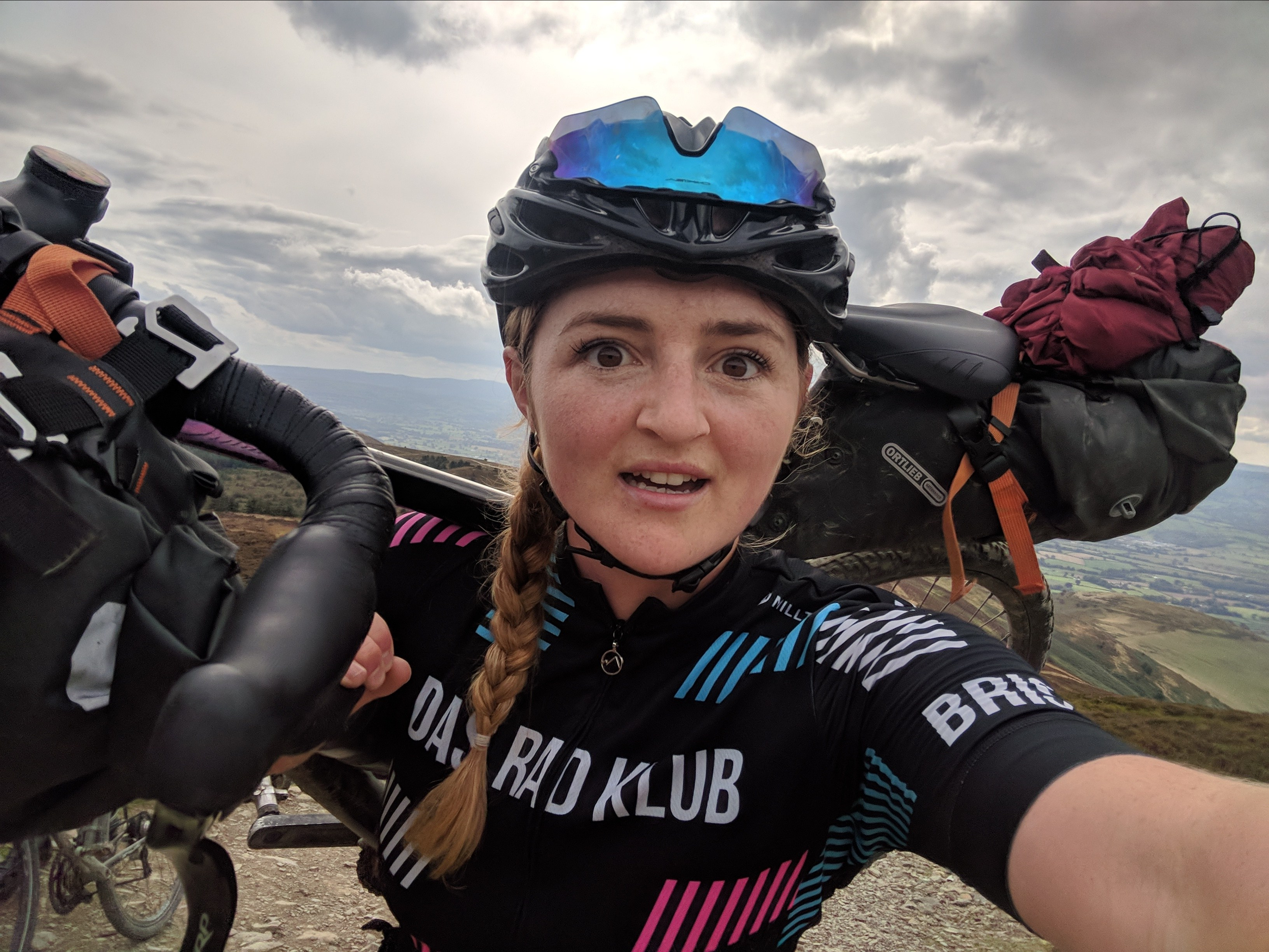 Sipping the last drops from the hipflask on the summit and debating the views from the top if the Jubilee Tower, it was now just a matter of descending further East and down to our booked B&B for the night. Only it was set to be so much better than that.
Straight from the Tower we were routed down steep singletrack, contouring along the ridgetop over Moel Dywyll and towards Moel Llys-Y-Coed. The track was narrow, sometimes rutted and rocky cutting between the heather moorland. It was just awesome. Sam and I took turns to go ahead – at one point I stopped and yelled back to let him know there was a collapsed stone wall to cross (which I'd walked over) – totally unable to stop with his less than brilliant rim brakes, Sam bumped straight over the rock garden – legend.
After a wider doubletrack gravel descent off the ridge, we were back on the lanes for the last stint through Northop to our B&B. Although the welcome was dubious, the hot shower and change of clothes was very much appreciated, as well as the pub dinner a walk down the road in the next village. Moel Famau was the real highlight today – and I'll be back to conquer it again soon, minus the luggage.
Day 6 Clwydian Range to Manchester – 87.5km/343m
Sadly the final day and in several ways more just covering ground than any great highlights – it had a tough act to follow after our time in Wales. Starting out after a good feed onto traffic free cycle routes to Chester, spirits were high with a finishing beer in mind. For Sam, this was a homecoming, back to his local towns and routes.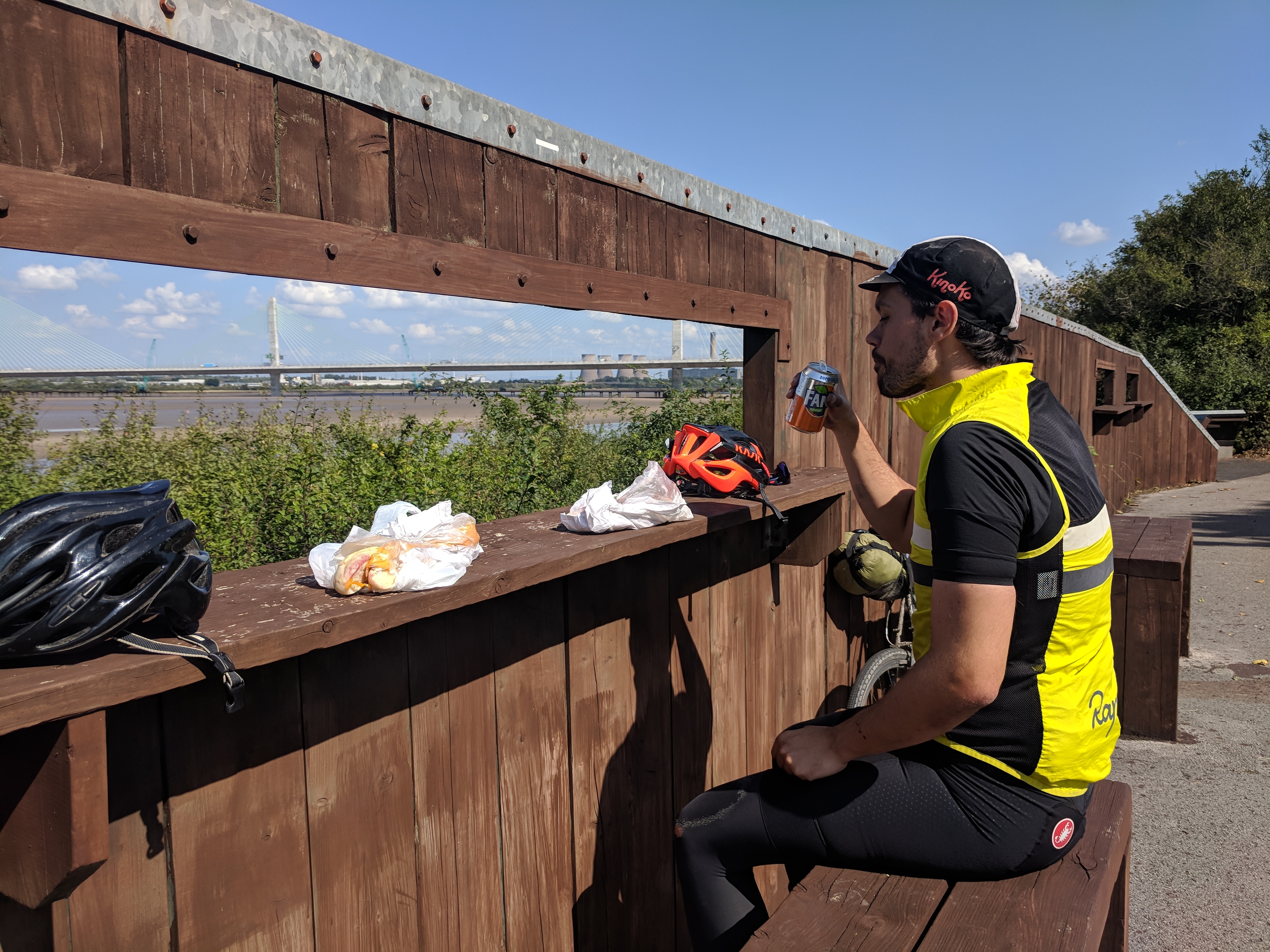 Onto the A56 towards Runcorn was a total slog, so it was with great relief that we headed back onto gravelly paths there due to the Jubilee Bridge closure. Following the Manchester Ship Canal and through Moore Nature Reserve (what a place!), we were soon on the Trans Pennine Trail which would deliver us to the edge of Manchester. Despite the many gates, it was a pretty bike friendly path with quite a few cyclists for a Friday afternoon, with just light gravel on the flat, straight path. Good for getting miles in I guess, but perhaps a bit tedious.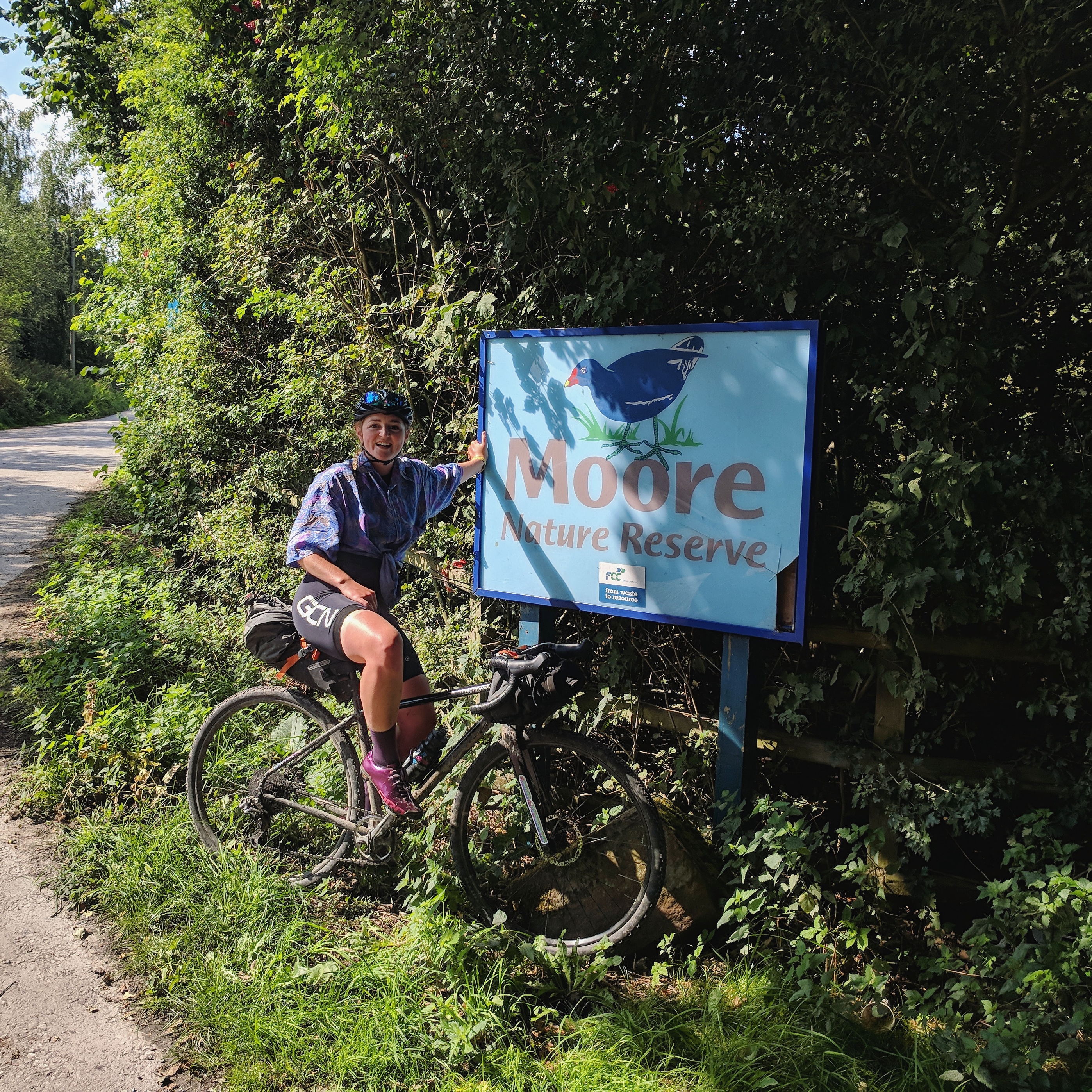 After a much needed ice-cream stop in Altrincham, we hopped onto the Bridgewater Canal for the final run in to Manchester city centre. Dodging dogs, kids and pedestrians, we were soon in the city centre, on the cobbles and between the towering red brick buildings. A couple of rounds of proper coffees enjoyed at the Rapha Clubhouse it was onto Brewdog for a proper celebratory beer or two and to meet fellow bikepacker Luke from Second City Divide – next adventure coming soon!
If you'd like to give this route a go, get in touch and I can give you a few pointers on the reroute points  – best to DM me on Instagram @katherinebikes. Happy riding!