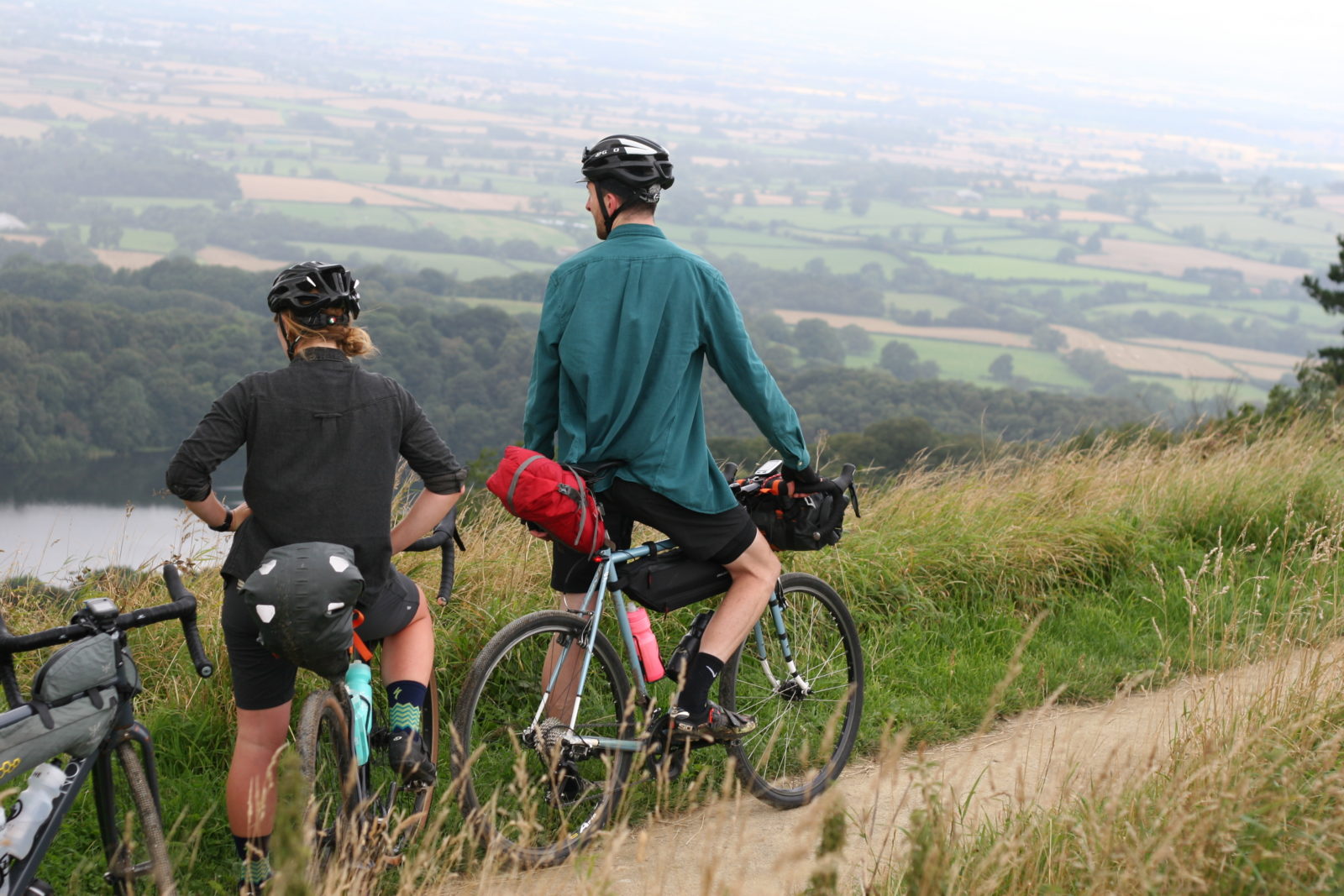 It was an unshakable itch that had started a few months ago. The summer by now seemed to have almost come and gone, with the early onset of wintry weather in August, and a sense of wasted time haunted me. Looking back to 2016, there were so many spontaneous adventures. Contrastingly, this summer had been consumed by getting a proper foothold in the industry.
Consciously, I looked back across the season to remember all of the cool things that I had done. Although my time in Morzine had been spectacular, the most restful and pampering break, one trip stood out above all else. My introduction to gravel riding in the Cairngorms to test out the new Pinnacle Arkose had lit a new fire; yet I yearned for something even wilder.
Although careful planning can make or break a cycling event or tour, there's something to be said for the spontaneity of heading out with just a brief overview of what to expect. A starting point, an end. Two dates perhaps. The possibility of trains or riding or the yet unknown – that's what does it for me, and had been missing from my all-too-structured riding of late.
The Racing Collective
The only major event that I had entered this year was the Trans Kernow. Making its debut in 2017, the event was hosted by MTB Hall of Fame legend Steve Toze and his bike shop-come-cafe in Plymouth Rockets and Rascals. Think the Transcontinental Race in miniature, squeezed into the Easter weekend in the famously hilly county of Cornwall. And yes, that does still mean setting off into the dark night at 9pm on the harbour cobbles.
Tom Probert was riding the Trans Kernow in preparation for his mighty goal of the year, the Transcontinental Race itself. Having shared cups of coffee and tales at the end of the race with the endurance cycling enthusiast, it was clear that we clicked and I eagerly anticipated riding with him again.
Tom introduced me to The Racing Collective online a while later. A series of Trans-country road rides and cyclocross type races for equally mad long distance nutters? This was worth a look.
The Collective 'host self-supported races for people who love wild places'. Think like minded people, spectacular national parks and remote roads, totally self supported and completely free.
Pubduro North York Moors
If you already think that The Racing Collective is just for competitive types and super-fit racers, you'd be wrong. Pubduro is just one of the rides in the social calendar, essentially a day-log pubcrawl across the North York Moors National Park over the August Bank Holiday weekend. And what better time of year to host it, with the expansive moors cloaked in swathes of purple.
Pubduro is a 140km route from Kilburn, near Thirsk, Eastbound to Robin Hood's Bay on the coast, but is anything but direct. The ride snakes through the National Park taking in long, off road gravel trails connected by short stints on road. With five timed segments to have a crack at, you can race your fellow riders with online aggregate times to study if that floats your boat.
Not to be omitted, the Pubduro route takes in no less than four country pubs, perfect for fuelling up and well earned refreshment. They're a welcome relief in an otherwise barren landscape.
After a night's camp at High Paradise Farm up famous local climb Boltby Bank, the meeting point was set for the quaint village of Kilburn. Meeting my old cycling accomplice and long distance cycling inspiration Jack Peterson and The Racing Collective founding member Mostyn Brown over a cup of tea, we were keen to set off with a long day ahead. Having only had my first taste of off road riding a few months back, and with a maximum daily distance of 70km, I was definitely moving into unchartered territory.
Part 1; Sutton Bank
There was no easing into it; Sutton Bank was served up as the first climb of the day, and the first timed off road segment too. Having climbed the White Horse and descended Sutton Bank before on road, I knew the scale of the ascent all too well.
Somehow the off road approach seemed much friendlier. Gaining height up through the woods, the gradient was steep and rocky tracks loose, yet they were short attacks with some respite in between. Finishing off with the hairpins on the road, it was all over much sooner than I had anticipated. Phew.
A view is always all the sweeter when you've worked hard to achieve it, but nothing could prepare me for how spectacular the Sutton Bank trail would be. Not only did we have the most incredible vista over the Vale of York, but the gravel trail snaked along the top of the bank, alongside ancient dry stone walls, through woods and flocks of unimpressed grazing sheep. The bike was responsive to every pedal stroke and lean; it was simply play.

This was exactly what I'd come for.
Part 2: Carlton Bank
Although I'd heard of it, I was unaware that we were about to tackle one of the '100 Greatest Cycling Climbs', Carlton Bank. Let's just say that I was glad of my 40T cassette, when loaded up with overnight gear and on squidgy 45mm tyres.
We gladly rolled into Pub #1, where a kid's sausage and mash hit the spot, without leaving me too weighed down for what was to come.
Part 3: The Incline (from hell)
Those of you who are familiar with Ingleby Horseshoe will sympathise. The second segment of the day had started well, with the gravel tracks heading generally downhill into the bowl. Evidently in racing mode, Mostyn flew off ahead, Jack not far behind, whilst Jon and I stuck together.
Flying down one side of the valley, you could see a long, arrow-straight diagonal cut into the hillside opposite. I laughed to Jon about having to go up it; little did I know that we were going back on ourselves to climb it in just a few minutes' time.
The incline, originally engineered to carry wagons laden with iron ore, was the loosest gravel you could imagine, much like riding on marbles. Struggling for traction on the mercilessly steep, unchanging 17% gradient, the only thing that was harder than riding was trying to get going again when you had to stop for air.
Fighting hard, I'd managed it up about half the Incline to the gate on the bike. After that it seemed even more impossible, and both Jon and I were walking. I'm not sure which was worse, as the cruel gradient tugged painfully on my calf muscles and seemed to be unending, but I physically couldn't ride. Jon couldn't either, which is really quite something.
So glad that it was over and emergency M&Ms snaffled, the tracks along stony ridge was worth even that horrific climb. With the wind at our backs, the four of us practically flew along the wide, flat gravel road that contoured around the next valley, and delivered us to the famous Lion Inn on Blakey Ridge for a very well deserved first pint.
Part 4: Rosedale
I'd be lying if I said that what followed the pint and cream tea in the Lion wasn't the very best part of it all. Perhaps slightly tipsy, the ensuing mad singletrack contouring around and then down into the Rosedale valley was just thrilling. Dashing and diving over the rocks, splashing through murky puddles, surrounded by banks of purple. You'd never believe that this used to be the Rosedale Railway.
It wasn't all rideable, but the crazy descents made it all the more ridiculously brilliant. I just couldn't stop laughing as my pedal struck the narrow trail sides and my legs became even more plastered in mud.
Passing by Low Bell End (yes, really), we dropped down into Rosedale Abbey. Time for the third pub, the White Horse Farm Inn. Nuts and crisps were snaffled, washed down with pints of coke (high quality athlete diet there) before the much anticipated Rosedale Chimney Bank climb.
Rated a fearsome 10/10 in Simon Warren's 100 Greatest Cycling Climbs, there was no doubt that the Rosedale Chimney was going to be hard. We rolled out of the pub directly onto the incline, and I prayed gratitude for my mega 40T cassette once again. Having said that, my bike was hardly light, weighed down with a laden seatpost bag, and my heavyweight denim shirt was neither aero nor breathable. I needn't say more.
Tactics varied as we tackled the 30% gradient of the hairpins and the unrelenting severity of the climb, which seemed to head directly up to the moody clouds above. Jack and I zigzagged across the road, which was thankfully a beautifully smooth tarmac. Stopping momentarily to let a truck pass, I hopped back on and with great determination and little speed, managed to conquer this beast of a climb. Now that was a pleasant surprise!
Part 5: Gravel descents
Have you ever descended off road for so long, over such rocky terrain, that you actually start to ache all over? I suppose I can credit my roadie pedigree for that, without the core strength of a seasoned mountain biker like Jack or Mostyn. My lower back ached as we descended the wide, loose and rocky gravel bridleway for no less than three miles, again banks of heather as far as the eye could see to either side.
Two short stints both on road and through a very muddy farm led us to the fourth timed gravel segment, and having recce'd it before, one that Mostyn informed us was going to be a lot of fun indeed.
Descending the wide gravel road, I finally went for it. The light was starting to fade in the most spectacular way, which tinted the landscape in yellow hues. That was my cue to start thinking about a plan. My lights were for being seen on the road, not really for being able to ride at night and especially not for off road riding. We'd ride to the last pub and then find a place to bivvy before finishing the final 40km in the morning light.
Emptying the tank, I raced neck and neck with Mostyn around the wide road bends, taking more risky turns almost like the city crit the week before. Before I knew it Jack came flying past us both, superior handling evidently on display, and with legs on fire I conceded and let them battle the last out.
One final climb on road out of the valley brought us to pub number four, The Horseshoe at Levisham. Frustratingly not able to serve us any food with a busy Bank Holiday kitchen, we bid our farewell to Jack and Mostyn who resolved to get to Robin Hood's Bay no matter what.
Breaking our bivvy virginity, Jon and I pleaded our way to a couple of bowls of chips in the busy pub before settling down for the night. We found a quiet spot on and under a bench just outside the village and on the edge of the woods. There were too many owls hooting to count, but somehow I managed to get some shut-eye.
Day 2, Part 6: Morning again
It was a damp awakening. Caked-on dried and dusty mud on the bikes and kit had turned sticky and bibs hung up on the signpost for the public footpath were cold and dewy. I was filled with a sense of dread about getting up and going again as I lay in my bivvy, too cold to move.
6am on a Sunday morning in the middle of the moors, the only option for breakfast to fuel the last of our mission was a fig roll each and some tropical trail mix. I wasn't complaining though, as I hungrily scoffed the lot.
Starting out in the fresh morning air wasn't as bad as I had feared. I kept my indispensible down jacket on until I had warmed up enough on the first climb, which took us off the back lanes and into the MTB Mecca of Dalby Forest.
Riding so early in the morning was wonderful; there's something special about being out before most people are even out of bed, with deserted lanes and trails all to yourself. It was miles before we came across any sign of human life at all, just a lone MTB'er up in Dalby to get some trails  in early.
From Dalby heading North parallel with the coast a few miles further East, we rode wide, gravelled tracks through the plantations and across more purple moorland. Past the eerie RAF Fylingdales base, we could almost smell the full english breakfast that we were so eagerly anticipating upon reaching Robin Hood's Bay.
It was a euphoric, yet slightly terrifying steep descent into Fylingdales as we saw the sea out in front of us, just a stone's throw from our destination. Descending all the way down to Robin Hood's Bay Old Village, we gingerly weaved through the now bustling Bank Holiday chaos as families flocked to this honeypot seaside town. A steep cobbled slipway down to the lapping waves, and we'd made it.
* * *
A huge thanks to The Racing Collective for hosting this ride, providing the most incredible and challenging route. Not to mention my fellow riders who encouraged and believed that I could, especially on unknown off-road territory distance-wise.
If you're interested in joining The Racing Collective for one of their free rides or races, on or off road, check them out here.
Thanks to Mostyn Brown for the photography.