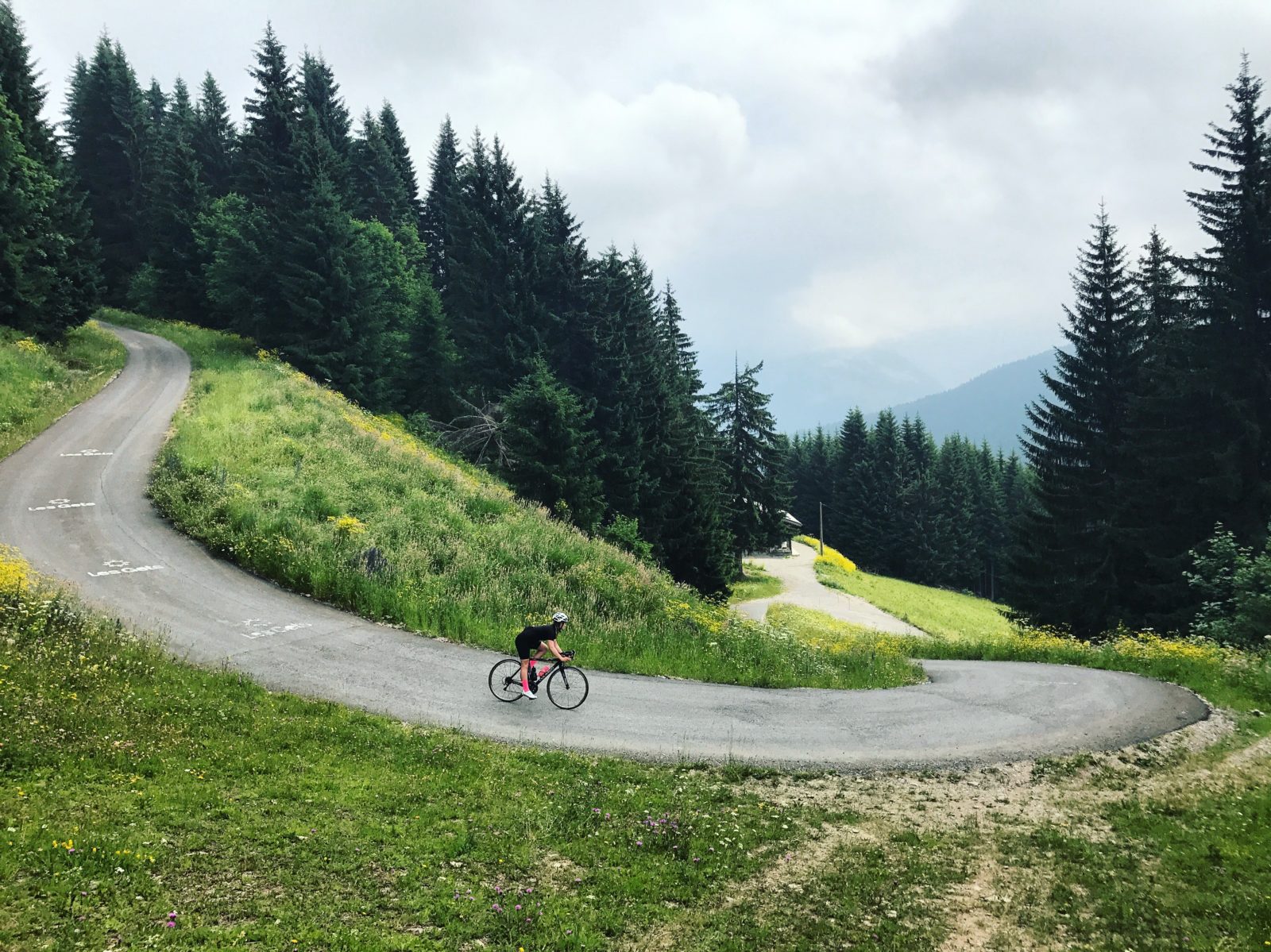 When the course for the 2016 Critérium du Dauphiné was released, the prologue TT divided opinion. Tony Martin, a strong candidate in the contre la montre stages, protested against the opening stage, claiming 'for me it's not cycling anymore. It's a circus'.
Despite the publicity around this controversial prologue in the recent UCI WorldTour, the time trial (more aptly named as a hill climb, perhaps) is little known in the area. Whilst exploring the cols and valleys in the Haute-Savoie, it came to our attention.
In conversation with Ian, co-founder of Lifecycol, a cycle guiding business and yoga retreat based in Morzine, the legend of Mont Chéry was mentioned in passing. 2016 had been a busy year for them with both the Dauphiné and the Tour passing through, and they'd been lucky enough to get up close and personal with a few of their idols, even joining Sir Dave Brailsford on a training ride.
There are many infamous Tour climbs in these valleys; Col de la Joux Plane, the Joux Verte and the Ramaz to name but a few, all of which are routinely ticked off by visiting road cycling enthusiasts, who take great delight in hurriedly uploading their rides to Strava after crossing their doorsteps, ice cold 'recovery' beer in hand, to compare their lung-bursting attempts to the summit times of the pros.
When the words 'utterly ridiculous' and 'almost didn't make it' were mentioned, it was a red rag to the bull for Jon and I. We are not and will never be the fastest or the fittest, but we rarely turn down such a meaty challenge.
Naïve excitement
It was the first climb of the day, so my legs would be at their best. A short drag along the main road from Morzine to Lets Gets provided ample time and effort to warm up before we hit the climb.
Compared to the long 14km ascent of the Col de la Ramaz or the 12km up the Joux Plane, Mont Chéry is a mere blip, standing at a fraction less than 4km. Yet it's not the length, nor the average gradient that makes this climb so challenging. Ascending 375m at an average of 9.7% may not sound too impossible, yet the profile of the course throws up some great surprises.
The start of the climb of Mont Chéry is unassuming, and actually quite easy to miss. The first exit on a small, leafy roundabout entering ski town Lets Gets yielded a small yellow sign to denote the start of the climb. There was no time to stop and read it though, as the single track road immediately bent up before me as an invitation to tackle what many before had tried and failed.
I'd been warned that the first part of the Mont Chéry 'lulls you into a false sense of security'. That it certainly does, with a gradient not exceeding 7 or 8 per cent, no different to any of the other Alpine cols that we'd been tackling.
Mindful that the worst was yet to come, I paced myself up the gentle incline that rose up between the ornate wooden chalets, generously spaced along the road to give views down into the centre of the town. Route des Métrallins was kind to me, as I could sense that my breathing was regular and controlled, and well within my comfort zone.
The first hairpin was wide and not too cruel, yet I still chose the outside line in favour of a shallower gradient. Despite being only 10am, there were a group of Frenchmen on the terrace of one of the chalets ahead of me, all with a bottle of beer in hand and seemingly rather jolly. They ogled on with some delight as I steadily paced past them. 'C'est facile, non?' I exclaimed out as I neared them, keen to get the first blow. Met with a bunch of confused laughter, I can only imagine how mad they must've thought I was.
The French holidaymakers weren't the only spectators on Mont Chéry. A popular ski run in the winter and mountain biker's paradise in these summer months, the ski lift was laden with hardcore bikers and their full-sus steeds, taking the sensible way up the mountain. They enjoyed the relative comfort of the cabins and spectacular views across the valley as the road zig-zagged up the incline beneath them.
The second harpin, a very sharp left-hander onto Route de Mont Chéry, wasn't too obvious as I sailed by. Immediately realising my error, I was a little relieved that I'd missed the steep U-bend and could attack this sharp ride from a more favourable position. It signified the end of the first kilometer, a quarter done and so far so good.
The calm before the storm
After the hairpin, it was another relatively easy start to the second kilometre, although I could already feel it really warming up. Already just over 20 degrees, it makes for a delightful change from the majority of great British weather, but I can anticipate this climb getting very hot indeed.
With the incline typical of any col in the area, I get into my own rhythm and my own pace. Jon, my riding partner has caught me up by now, having stopped at the start for a nature break, and continued to spin on past me and gradually out of sight. Built long and lean, Jon is naturally a brilliant climber, and I hold no grudge in letting him continue on at his own best speed.
Having been warned about what was to come, I was secretly feeling rather smug. Whilst Jon rode on race gearing, an 11-28 tooth cassette, whilst my C60 was built with a little help in mind, and the 32T definitely gave me more confidence approaching the climbs. Would that be enough to conquer the 19% sting in the tail that was promised? I'd have to find out.
I tried to distract myself on the long straight by gazing down over the town, and studying the Crankworx setup on the side of the valley opposite. Funny to think that just two weeks before Lets Gets had been bursting with the world's most talented downhill and slopestyle riders. The enormous mounds of earth that made one of the courses, along with puzzling wooden structures that really did seem impossible made me feel slightly better. At least if I don't succeed on Mont Chéry, I was unlikely to end up with broken bones.
Even though I continued to err on the side of caution with my pacing, the sweat started to bead off of my forehead and drip down my nose. Both arms and legs were glistening, a grim mixture of sweat and factor 50. I was a hot sticky mess, with my grip on the bars slipping. 2km done, not long now and it would thankfully all be over.
Halfway house
Reaching the halfway mark at 2km was not a relief, but in fact rather terrifying. Reading the sign with the next kilometre averaging 12% was one thing, but the fact that the road ahead was seemingly flat was something else altogether and filled me with nothing but dread.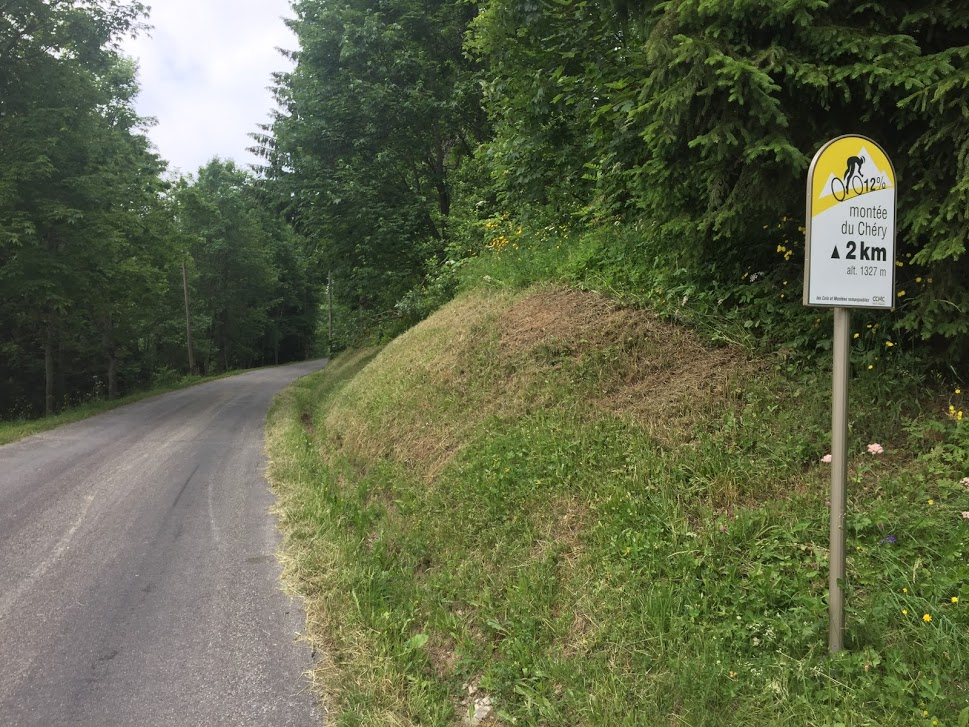 The col markers that you find in the Alps and the Pyrenees are both a blessing and a curse. Being able to regularly check off the kilometres on a long climb provides some mental stimulation and helps to break down these mighty beasts into bite-size chunks. On the contrary, seeing a high gradient for the next kilometre can be disheartening to say the least, or for some will be a good way to prepare. Worst of all is this case exactly; where a higher gradient is promised, yet the road in view is gentle. Then you know that whatever awaits you around the corner is anything but.
I waited with baited breath as the road continued on and on at such a gentle slope. It lasted a lot longer than I'd expected, and with every corner I turned it went on just the same. Looking up, I saw a flash of red and called up to Jon, tens of metres up on the set of nested hairpins that I was about to tackle. What he replied with I couldn't make out at all – yet went on to realise as soon as I reached that corner.
'Barrier!'
The last of the gentle hairpins turned sharply and there it was. The moment that I'd been anxiously waiting for was here, a sharp hit of a climb so steep that it would make your eyes water, and slap bang in front of it, a road-wide barrier.
I had no option but to twist an ankle and dismount, just to squeeze past the road barrier, turning a blind eye to the 'route barree' warning sign. I'd made it this far, and I wasn't going to be turning around anytime soon.
Once past the barrier, the next challenge would be to get clipped in and going again. With a wall of tarmac rising up before me into the forest, there was no relief from this staggering 19% rise to clip in on the flat, as I usually prefer. It was hopeless; I tried starting across the road to lessen the inline, but in panic I could do nothing to get my foot onto the right side of the pedal to hear that reassuring click.
It wasn't my fault about the barrier being down, so I consoled myself as I started to push my bike up to the next hairpin, in search of a more favourable gradient to get started again. 'Lets Gets' was printed over and over up the road, an artefact from last year's race. I'd seen the mountain bikers pushing up the climbs this week, but I never thought it would also be me.
Turns out that thinking I'd be able to get clipped in on the next hairpin was rather optimistic. As the road curved around 180 degrees so steeply, there was simply no easy stretch to attempt. I tried everything, zig zagging across and even taking a run up on the gravel at the side of the road, but no matter what I did, there just wasn't time for me to be able to clip in. A few times I caught the pedal on the wrong side, but it was no good; I'd need everything I had to power up the next, equally steep incline.
Defeated by such lack of skill, I pushed up again to the next corner, praying that this one would be kinder, which thankfully it was. I knew that I'd be able to ride it, just getting started was the issue.
I was wrong. Streams of sweat cascaded down my legs, and poured off of my face, and I strained through every revolution of the pedals on the relentlessly steep road. From the barrier to the top, it had been paved specifically for the Dauphiné, and I could now see why. No one in their right mind would dream of going up – let alone down – this gradient for fun.
It must have only been fifty or a hundred metres along from where I'd started again, but I could push no more. Turning the pedals had become so slow that I was in dangerous territory. The last thing that I needed now was to arrive at the summit with a bloody knee, sore elbow and a seriously dented sense of pride.
Pushing up again to the next hairpin, I relented to the fact that it was my fault this time. Not dwelling on that thought for too long, it was important to remind myself of the task in hand – if it was easy everyone would be doing it. We hadn't seen a soul.
One final push
I'd been promised an easier conclusion to this killer prologue, so I was delighted to see the 1km sign nearing once the angle had slackened enough to hop back on. Surely that was the worst over?
The average 9% gradient, which would be a real stretch on any other Alpine col, was a breath of relief as I started to spin my way up the smooth black tarmac, finally starting to appreciate the beautiful landscape on this secluded climb. Meadows of yellow and purple bloomed where the pine forest ended, and with the weather rolling in, I was soon heading up into the misty cloud.
Although I'm not a skiier, it was a little bizarre seeing the ski run signs nearing the top of Mont Chéry, and with a few mountain bikers bombing past onto the trails, I knew I was nearly at the summit. It wasn't long at all before I could see the first ski lift, then the second, and a thin strip of what looked to be white tape crossing the road.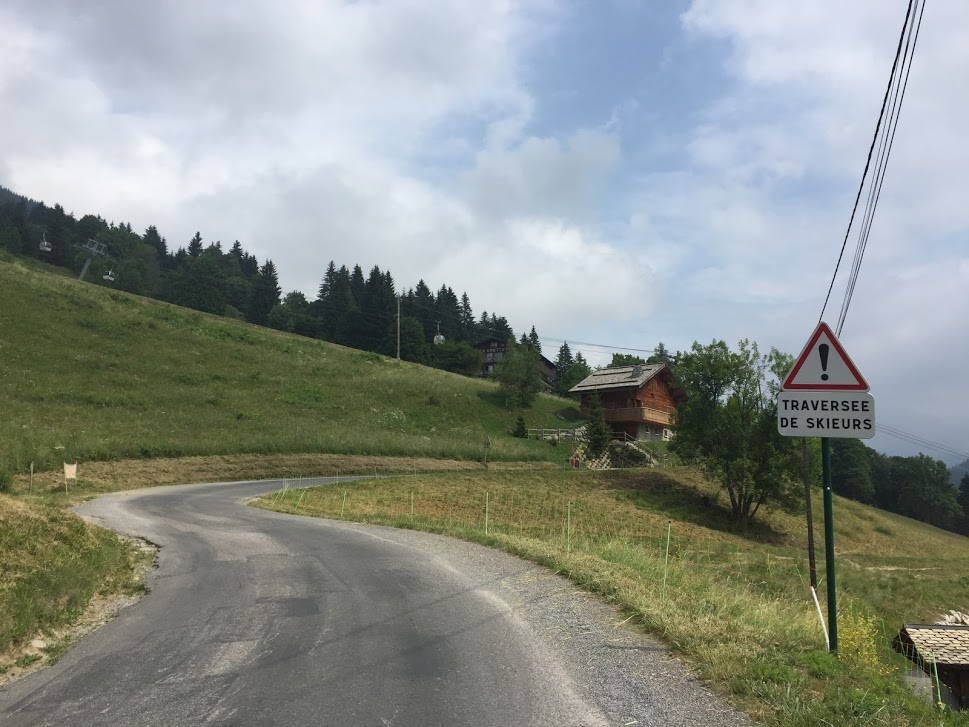 It was a finishing line apt for this climb; with no crowd or celebration, simply a picnic bench atop of this deserted, misty mountain to finally rest the legs and reflect on what a bizarre and ridiculous feat had been accomplished.
Mont Chéry, mon chérie
A French wordplay on 'mon chéri', translated to 'my darling', the mountain is certainly a beautiful one. Loved by hikers, eagerly shredded by mountain bikers, and a mecca for skiiers, it's a mountain that's admired by many. For the road cyclist though? A testing and wonderfully unknown challenge, but one I'd certainly not refer to as my darling.
***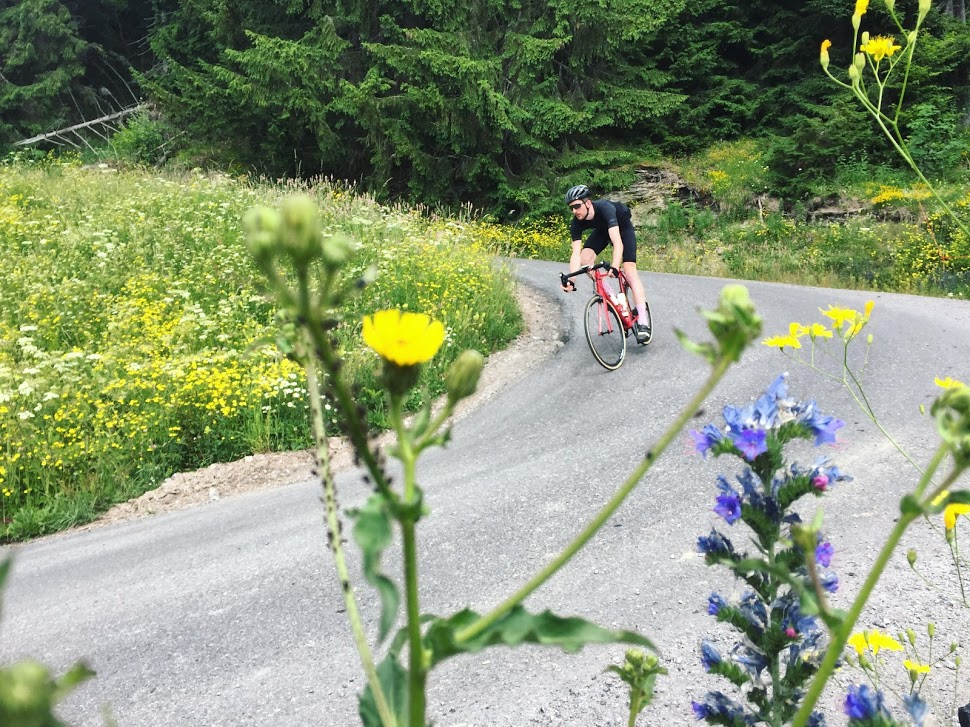 A slightly regretful thank you to Ian at Lifecycol for the ludicrous idea and route advice.
I'm sure I'll be ready to wreak my revenge when we ride again.